… and what can my life bring to me the could exceed that brief moment?
For twenty years I have gone every day to the same woods,
not waiting, exactly, just lingering.
Such gifts, bestowed, can't be repeated.

If you want to talk about this come to visit.
I live in the house near the corner, which I have named
Gratitude.

excerpt from poem by Mary Oliver
Grateful is the perfect word to sum up the experience I had while staying at Sujan Shar Bagh in Rantambhore National Park, India this past October. As some of you may know I am an avid lover of nature & of African safaris in particular. I suffer from Mal d'Africa often and find it to be the very best malady one can experience. Truth be told, a tiger safari was never on my bucket list, although I had spent a few days in central India a few years back on a last- minute tiger experience that a friend invited me to share with her. The accommodations were mediocre, the tiger viewing challenging and the overall experience, aside from sharing time with my friend, left me hoping for something better in the future. So, when our dear friend Nicos Contos of Wildplaces Safaris & Ultimate Places Travel invited us to to join him at Shar Bagh in Rantambhore, we quickly accepted, as no one knows nature quite like he does!
The overall experience was an A+ from start to finish, from the tented camp designed in a traditional safari style — classic and elegant to the delicious meals & thrilling safari experiences. I give the whole experience and overall rating of A+. Read on to find out more.
Accommodations: A+
Shar Bagh is a Relais & Chateaux tented camp designed in a traditional safari style — classic and elegant. While we were lucky enough to be in the largest tent, complete with private pool and butler, the 'regular' tents are equally as well appointed, just smaller. And while a bit more space between the tents would be welcomed, the lack of distance is justified by the restrictions of space right outside the National Park.
Food:  A
A variety of delicious options, including some lovely destination dining surprises along the way. I particularly loved the change of scenery provided from meal to meal.
Game Viewing/Guides: A ++
Let me start by saying that Rantambhore National Park is magical! Having been on many African safaris I was enamored with the terrain of this area. With a 5th Century fortress in the center of the park, canyons, valleys, streams, and a mix of banyan & palm trees, you feel as if you have stumbled upon a lost city, a secret other world. And while I do realize we were very lucky to see a sloth bear AND a tiger (with its kill!) on our very first drive, the guides at Shar Bagh are the very best. The Royal Bengal Tiger is not only the most endangered cat in the world (it is estimated that less than 4000 remain, with approximately 2500 in India), it is also very hard to see. The average viewing rate in Rantambhore is low but with the guides at Shar Bagh the success rate jumps to 85%. It's worth the extra price just to know your chances of witnessing these incredible animals is increased by booking your safari with them based on this statistic alone, but if you add in the comfort of their luxury vehicles not to mention their conservation efforts it is well worth the added price.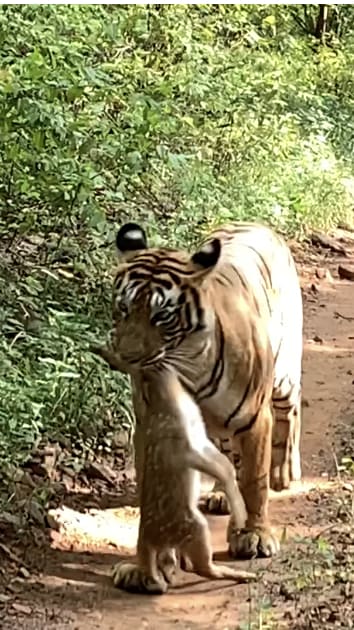 This is a trip you will need assistance in planning as you don't just book a room and go — it is part of a larger itinerary in India that takes knowledge & know-how! India is a massive undertaking and, if done properly, will leave you never wanting to leave. Tune in for my next post where I share my personal journey with this country that I long refused to visit and now never want to leave. Mal d'India. It too is a 'thing'.
xoxo