Wow, that was FUN!
Fun truly is the best word to describe the experience, which was indeed not your average hotel stay and definitely not your average airport hotel stay! To use the word 'experience' in a positive way to describe any airport hotel is indeed a first, and a stay at the new TWA Hotel located at Terminal 5 of JFK airport in New York was just that — a fun experience from start to finish!
Let me start by saying the pros vastly out way the cons, but at the end you will find a few areas for improvement and a bit more information to assess if this experience is indeed for you.
Design: A+
This was an easy win as I am a fan of all things mid-century modern, vintage and retro. I also am a huge Mad Men fan. The entire hotel is like a relaxed-yet-still-glam Mad Men set. Well-designed and transportive. You can easily imagine Don Draper sipping a martini while passing time before his flight. I expected to find it all a bit kitschy, but it works surprisingly well. From the check-in counters to the white and red logo theme throughout, the smart mix of earth elements in the rooms of the appropriately named Saarinen and Hughes Wings (paying homage to the architect of the iconic building and the owner of TWA, respectively). The attention to detail shows and makes for a memorable end-user experience.
Rooms: A+
Well-appointed and functional. I love the mix of mid-century modern combined with the earth elements of wood and white-washed terrazzo floors in the bathrooms. The minibar is retro chic and all the brushed gold/brass accents really round out the look. They give the space a glam edge rather than a gilded-gold feel.
I stayed in the Saarinen Wing. Who doesn't appreciate having a Womb Chair to sink into in their hotel room? With a wall of floor to ceiling windows overlooking a central open outdoor space and electric blinds that close at the push of a button, they have managed to find a perfect mix between retro style and modern functionalism.
And as for those sound proof windows? They work. I never heard an airplane or anything else for that matter.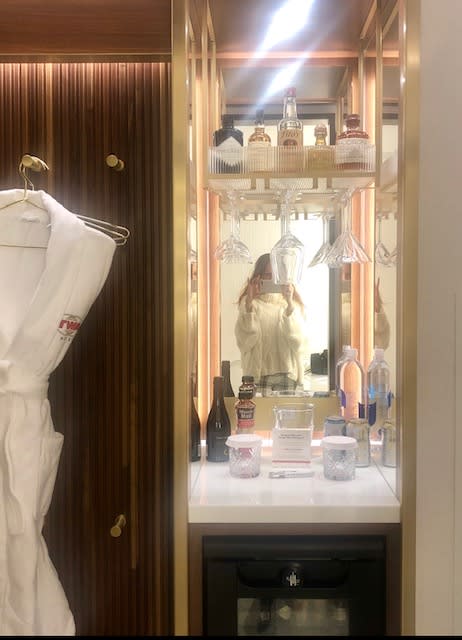 Restaurants & Food: B+
Had I been able to eat at Paris Café, the new Jean-Georges Vongerichten's restaurant located inside The TWA Hotel, I have a feeling the grade would be an A of some sort, but given my disappointment that it was closed Thursday evening for a private event, the B+ grade will have to do for now. The General Manager did send an email to all guests a few days in advance to alert us to the closing, which was a smart idea given that it was probably a major draw for many of the guests booking at the hotel that evening, including me. For future reference, do make a reservation in advance, although that did not help in my case.
I ended up dining at The Sunken Lounge which was also serving items from the pool menu. While a limited menu, the food was delicious and well-presented. The staff, in their adorable uniforms, were very friendly and accommodating, doing their best to navigate a unique situation given that the main restaurant was closed.
The atmosphere at The Sunken Lounge is festive and social. Ever see the now vintage Virgin America safety video? The one with the theme song 'Tonight get ready to fly"? Well, if you have you will understand the analogy and if you haven't, check it out on YouTube, but hanging out at The Sunken Lounge feels like you walked into the Virgin America safety video — it's fun, it's social, it's active. It makes you feel as if your vacation has already started, or if traveling for business that it just isn't that bad. I arrived laptop in hand to do some work and listen to the debates. After 30 minutes I was sharing a cheese plate with a couple and putting my work aside. While you could easily choose not to be social, it is so easy to be social there. The social areas are situated far from the rooms which means that none of the noise will affect your sleep, and you can take it or leave it as you like.
Many of the guests in the lounge were awaiting their 'turn' to come up at Connie Cocktail Lounge — a bar inside the restored plane that is on the grounds of the hotel. Reservations must be made in advance, a fact I did not realize until it was too late. Book your 2-hour slot at Connie in advance. If you are there you might as well go for the full experience and have drinks in a vintage TWA plane on the TWA tarmac, right? I look forward to trying that out next time. Yes, there will be a next time.
Gym: A+
This is not only an incredible airport hotel gym, it's simply put a great gym, no matter where it would be located. Ten thousand square feet of state-of-the-art fitness equipment, including a Peloton bike cycling studio and a yoga studio. You name it, they have it. For all you fit travelers out there, you will not be disappointed!
There is also a pool, which is a major plus for those that enjoy getting a few laps in between flights or their daily dose of vitamin D.
A spa would be a welcome addition, but I believe they will get there, in due time.
Major Bonus
The biggest reason to love The TWA Hotel are their eco-practices. I did not encounter one piece of single-use plastic throughout my entire stay. No small shampoo bottles, no cotton wrapped in plastic, no plastic lining the one and only trash bin in the room (located in the bathroom), no plastic in the minibar. They even have a space in each room for recyclables.
Major win in my opinion and a practice that I imagine (wish, pray!) other hotels will follow as more and more people become aware just how important it is to limit our carbon footprint, especially when traveling.
Who This is For:
The new TWA Hotel at JFK is, in my opinion, for most people. Design lovers, the nostalgic, and those that remember the days of TWA; multigenerational families with children will find it entertaining and fun, plus a slice of history to share with children. It's the perfect way for couples to jump-start their vacation or have it last just a little bit longer on the way home. Social solo travelers will enjoy the relaxed social atmosphere. If you prefer a more refined, elegant, and classic hotel setting this may not be for you, although it definitely beats out all other JFK hotel options, and you could easily enjoy a nice meal or room service and then relax in your comfortable room.
Things To Know Before You Go:
If you are not departing from Terminal 5 it can be a bit of a hassle to get to your terminal. I had a lot of luggage (shocking!) so walking to terminal 4 was not an option. It took an Uber 15 minutes to get to me at 6:15 am, which had I known I would have planned my morning a bit better. Not a deal breaker by any means, but good to know to plan to depart 15 minutes earlier than you think you should, and order that Uber/Lyft well in advance as it takes them time to get to you. I actually wanted to take a taxi, but that would have taken 25–30 minutes to get to me.
Room for Improvement
They need to add more signage to direct people where to go. I was not the only person wandering around a bit aimlessly trying to find the lounge and restaurants, ending up in the private event spaces instead.
Staff is still learning their way around as well. A bit more time will be needed for them to fully get the swing of it, but they are good natured and friendly despite the newness of it all.
They do not work with Luxury Travel Advisors. While I will still absolutely recommend them to my clients and book stays on behalf of my clients as part of a larger itinerary, I do think it is an oversight on their part to not work with advisors, given the increasingly important role we plan in the ever-growing travel industry.
So, there you have it. Up, up & away. But first, stay!!!