A Day In Our Life
Now that the questions of where we are and how we ended up here are answered, we are often asked "what exactly does your life in lockdown look like"? Here is a quick glimpse into a day in our life in lockdown.
While not typically an early riser, given that I'm in bed by 9pm and asleep by 10pm, I find myself naturally waking up between 7–8am. First thing each morning I take advantage of not having to rush out of bed, as normally if I wake up this early it's because I have to. Instead, I can lounge a bit, which is quite a treat. I always start each day writing in my GRATITUDE JOURNAL. It's a habit I've had for over 15 years now; a habit that sets the tone for the rest of my day and the course of my life. I then head downstairs for a GREEN JUICE, to which I add liquid zinc, Resveratrol (antioxidant) and Grapefruit Seed Extract. I eat breakfast (typically papaya and lime and eggs) and then head back up to my room to either practice yoga, teach a yoga class, or take a Pilates or yoga class via Zoom. Our room has the best balcony for practicing, so it's become the collective YOGA STUDIO for all of us here at Posada Margherita on lockdown. It has indeed become a highlight of my days during lockdown to come together on the balcony and through ZOOM to practice and connect with community near and far.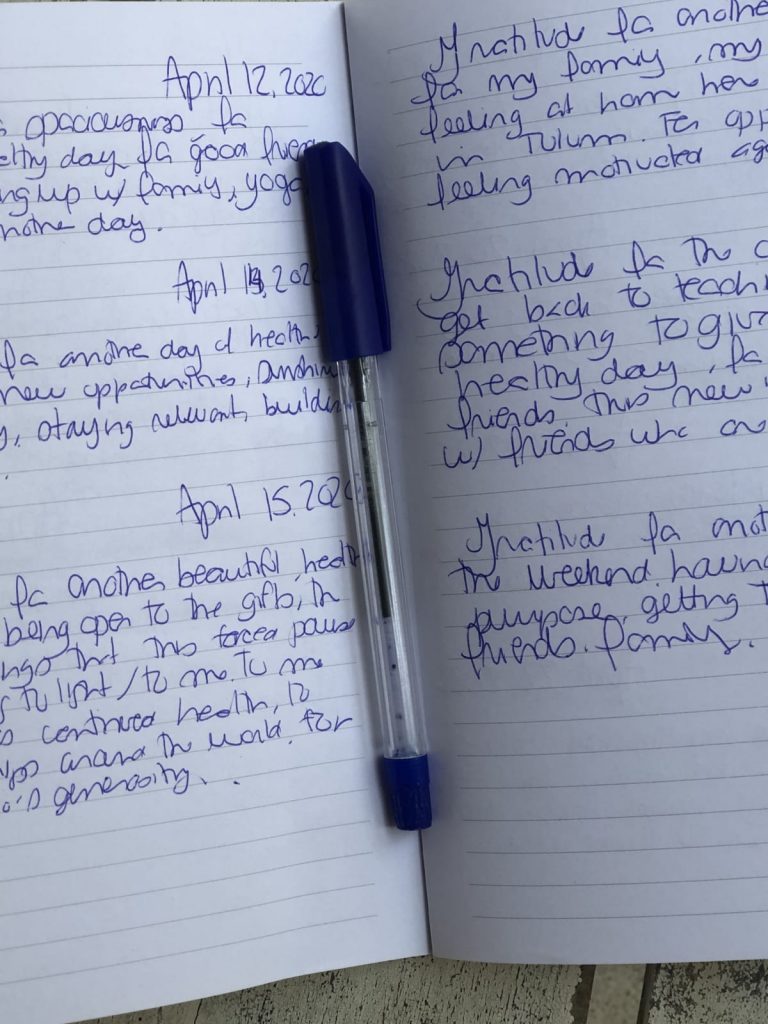 After my morning fitness/wellness practice I enjoy an iced-coffee with a spoonful of MOON JUICE SPIRIT DUST (Adaptogens).
It's very hot here right now and becoming hotter by the day, so I tend to spend more time in my room or on my shaded balcony than anywhere else. I enjoy the solo time, just Francesco and I. It provides me the space I need to write blog posts such as this, work on an updated version of our website, develop marketing materials, programs, and communications for the future of Escape to Shape and Escape Artist; respond to client emails, to work on yoga classes, playlists, mediations, and inspirations. Space to just be. To listen to music, catch up with family and friends, read and write. This time and space is quite a gift for me as I rarely take it. Through this forced pause I have noticed how much of a DOER I am, how working at a frantic pace has become natural and normal for me; to slow down and honor the pause, something I am always encouraging in my yoga practice and teachings, has become a great gift and something that I look forward to taking with me into the next phase of normal.
We eat lunch downstairs with whomever is around — sometimes paella prepared by Anja, often salad with tuna and anchovies (my favorite!), every now and then a sandwich prepared on homemade bread or pizza.
Throughout the day we are often visited by the sweet seven-year-old daughter of the owner of Posada Margherita. We draw, color, watch Toy Story 4 for the umpteenth time, play hide and seek and just hang out in her often imaginary world. Creative play with a child is refreshing, as any of you with children can attest to. Her multiple daily visits have become a much needed gift throughout this New Normal.
Early evening brings with it our (hopefully) daily beach walk, depending upon the beach polices' presence, which we do our best to dance around. On the days we are able to walk, we do; and when we can't, we don't. Simple enough. Another thing this time has reminded me of is the importance of non-attachment in our day-to-day life. I sometimes take a swim in the ocean depending upon how rough the water is; Francesco swims every day. Once back from our walk the sun is usually starting to set which means some of the staff are playing volleyball, others swimming or enjoying time and sunset cocktails together on the beach. My current routine has me drinking a beet, spinach and ginger juice before a showering and then enjoying a glass of white wine on the beach.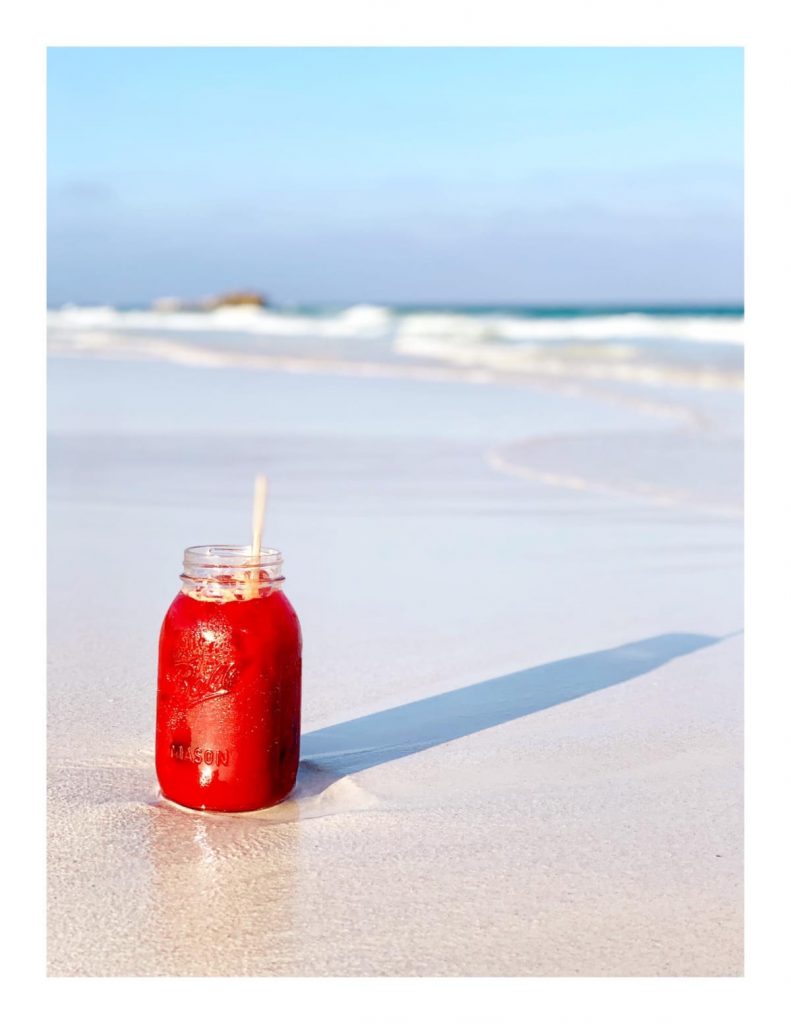 Dinner is when we all come together the most. Typically served at 7:30pm we have a few favorite meals in rotation — Nasi Goreng, salmon or chicken prepared by Anja, gnocchi or steak (for the meat eaters), prepared by Fede. Anja has the kitchen staff trained in preparing delicious Mexican food — from nachos and guacamole to fish tacos or esquites so we enjoy a Mexican meal at least once a week. Every now and then we order in from Burritos Amor, which we all love. And tonight, we are going to give a place called Bonita Burger Bar a try. We have a group What's App set up to organize these types of things — from yoga/fitness class times to dinner and menu requests. Needless to say, we are not starving for company or food, which are yet again other things to be grateful for.
Francesco and I seem to always be the first to retreat to our room after dinner. I've gotten into the great habit of no longer working before going to bed. Instead I have been watching a few binge-worthy programs such as Afterlife 2, Ozark, and Little Fires Everywhere. Of course, I often remind myself that finishing up the current book I am reading, Fleishman Is in Trouble, would be a great use of pre-bedtime time, but these days I typically read on one or two of the afternoons that I take an hour or so to sit in the shade on the beach.
One hour before bed I take 10 mg of melatonin and spray my arms with liquid magnesium. Both help me relax into a restful night's sleep. I found myself quite restless for the first 2 weeks leading up to lockdown and the first actual week of lockdown. It's not easy to turn the mind off when faced with so many unknowns, but the melatonin and magnesium have indeed helped, which I am thankful for as sleep is always essential, but even more so right now!
So, there you have it. I do realize that some of you will read this and compare it to your own lockdown which probably looks quite different. Keep in mind, we do not have children and we do not have a huge overhead in our business or in our life, hence making our current Life in Lockdown seem much easier than most. The irony is that for quite some time I have been talking about growing our business to be more on scale with some of our competitors such as Backroads and Butterfield & Robinson, but continually ran into road blocks, often created by me as I have found it challenging to let go of enough control to actually grow on a larger scale. Turns out this "lack of growth" has worked in our favor, temporarily at least, as we have not had to furlough anyone or let anyone go. It's yet another example of life giving me what I need, not necessarily what I want, and an example of the sweetness of surrendering.
We have no idea what tomorrow will bring. We have given up on predictions or projections and instead are committed to staying present. We are eager to get on the road again, to share time with our guests, to create lasting memories, to share hidden corners of countries, to contribute in meaningful ways to the cultures we visit, to connect with our guests and to share our passion for travel, as all of these things truly make our souls sing. Until then, just picture us here on the beach, living a very simple life, making the most of the present moment.
We would love to see a glimpse of YOUR LIFE IN LOCKDOWN! Please send us an image or two and a bit of text on what your life looks like and we will be sure to post.