By Ruby Warrington – Original Article
When meditating, the author Gabrielle Bernstein avoids belts or drawstring pants. "Tying anything to your body blocks the energy flow," she said.
The athletic-wear company Lululemon, known for its yoga togs, introduced a meditation-specific capsule collection in fall 2012, with pieces retailing at relatively affordable prices, including a Devotion Long-Sleeve Tee ($68) and an Intuition Sweater Wrap ($178) that doubles as a meditation blanket. With its extra-deep hood, the Please Me Pullover ($118) is perfect to wear during Zen Buddhist meditation practice, said Amanda Casgar, a spokeswoman for the company, since during the process "you keep your eyes open but focus on a point on the floor in front of you."
"Pulling the hood right down over your eyes automatically creates that line of sight," she said.
For the more affluent enthusiast, Donna Karan's Urban Zen line, affiliated with her charitable wellness foundation of the same name, has become a popular choice (sweat pants, $995). "If I can't live, work, travel, sleep — or, yes, meditate in it — it's not in the line," said Ms. Karan, who meditates every morning after her yoga practice. "So I'm wearing a bodysuit, or legging and T-shirt." Since she prefers to sit in full lotus, "the key things for me are freedom and comfort."
Marketers can go through some contortions to make their wares seem essential to a practice that focuses on looking within.
Great Patience Zen Stitchery, an online retailer based in Los Angeles, offers traditional and Western-style meditation clothing and accessories like monk's bags and meditation cushions. It hopes that "in offering these garments to others, the seeds of Buddhism planted in the West, will patiently, yet steadfastly, take deep root and grow throughout America," according to its Web site, zenstitchery.com.
And James Boyd, the designer of Daisy Jewelry, said that wearing the line's Chakra bracelets, which are sold at Equinox and Pure Yoga, "can allow the wearer to channel their energy more directly to a desired location in the body."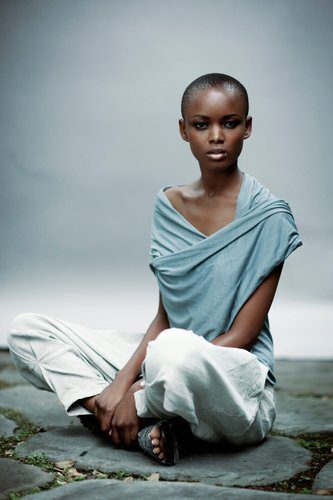 But the self-help author Gabrielle Bernstein, whose new book, "May Cause Miracles: A 40-Day Guidebook of Subtle Shifts for Radical Change and Unlimited Happiness," was published this month, sees no conflict in glamming up for meditation.
"If you want to get more excited about your practice," she said, "choose an outfit you want to put on."
Ms. Bernstein, whose book outlines daily exercises, including daily meditation, for personal transformation, has followed a committed meditation practice for seven years. She regularly lectures in Marc Jacobs clothes and recently appeared on Oprah Winfrey's "Super Soul Sunday" show in a berry-colored Diane von Furstenberg dress.
Ms. Bernstein described her premeditation ritual: "I shower and put almond oil on my body before I meditate — and then I put on an outfit," she said. "I don't want to go straight from my bed to my meditation pillow, the same way you wouldn't wear your street clothes in bed."
And yet her choices tend to be simple — often white ("to make me feel more awake and vibrant"), with something to cover her head ("to contain the power energy I'm creating") and always a cozy pair of socks. She also wears her hair down and avoids belts or drawstring pants, since "tying anything to your body blocks the energy flow," she said.
Erica Gragg, who runs spiritual Escape to Shape fitness retreats at locations like the Surf Shack in Montauk on Long Island, where daily meditation sessions form part of the program, prefers "inexpensive tank tops and long-sleeve tees from H & M, throw-on cardigans from KD Dance." Her go-to socks are by Wear Pact, "a brand whose profits benefit homeless people," she said, "which ties into the idea of carrying your practice off the mat."
Though some more ascetic meditation retreats ban fragrances, even going as far as suggesting unscented laundry detergent and rustly fabrics, Ms. Gragg also likes to dab on a little scented essential oil before her practice. She accessorizes with a big vintage scarf — the grown-up equivalent of a blankie — that "goes everywhere with me, and which I use to cover my head while I'm meditating."
Her advice for beginners: "Start with a basic legging, and from there, just layer."