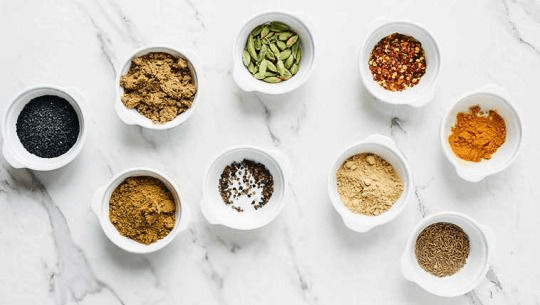 Practical, Real Life Ways To Use Super Spices In Your Diet - Yahoo
By Erica Gragg For Charlotte's Book
The benefits of both common and exotic spices have been sung for centuries, and lately have become more and more mainstream. Who amongst us hasn't heard about the healing properties of cayenn
e, cinnamon, turmeric and ginger, for example? I too am often singing their praises, especially after having traveled the world and seen not only the origins of these spices, but their effects in action as well. Yet, I am often asked how best to use these ingredients in our daily lives. You've likely been told several times to eat more turmeric—but how exactly should you do that? Many of us have heard of sprinkling cinnamon into our morning muesli or adding cayenne to our lemon water in the morning, but here are a few more ways to spice up your diet… and kick up your health!
TUMERIC
Often called a "superfood," turmeric is native to India and gives curry its yellow color. Curcumin, which is found in turmeric, is a strong antioxidant and has powerful anti-inflammatory effects – even matching the power of some drugs. Because of this, many people with arthritis find relief with daily dose of turmeric. As well, extensive studies are currently underway on the healing role curcumin could play in treating various cancers, depression, Alzheimer's, heart disease, and brain disease. While you can always take turmeric pills or use in spice form, it's also easy to find and use in its fresh root form. Here are a few suggestions for whichever form suits you:
-Add to scrambled eggs, omelets, or frittata.
-Add it to your daily green juice, just as you would ginger (unpeeled). Since curcumin is fat-soluble, be sure to add a healthy fat source such as a teaspoon or tablespoon (depending upon the size of your juice or smoothie) of olive oil or coconut oil – which I always recommend doing, as vitamins A, D, E & K are also fat-soluble, meaning they are only absorbed by the body when accompanied by a fat source, either in the smoothie or an accompanying meal.
-Sprinkle on half an avocado or on your trendy (but tasty!) avocado toast.
-Peel and grate or sprinkle the spice on vegetable-based soups like pumpkin, butternut squash, carrot and broccoli, etc., all of which will likely be made with olive oil or butter, hence your fat source.
-Toss raw pumpkin seeds in a mixture of olive oil, sea salt, and turmeric. Roast and enjoy as a healthy snack throughout your day.
If you have time, start your morning with this "Rise & Shine Elixir," which also includes cayenne –another great spice to add to your diet: just mix hot water, the juice of ½ half lemon, 1 teaspoon local honey (important for your immune system and to stave off allergies), 1 teaspoon turmeric, 1 teaspoon cayenne, and 1 teaspoon olive oil.
CINNAMON
True cinnamon (Ceylon cinnamon) is an ancient spice that is often mistaken in the United States for it's less-beneficial cousin, common cinnamon (Cassia cinnamon). So, what exactly is the difference? While both forms of cinnamon are loaded with antioxidants and have rich levels of anti-inflammatory properties – helping the body fight against infection and repair tissue damage – and may even cut the risk of heart disease (as some research has shown that 120 milligrams a day of cinnamon may lower 'bad' cholesterol while increasing HDL 'good' cholesterol), Cassia cinnamon, the kind most commonly found at the grocery story is high in coumarin, which is known to be toxic in large doses and can damage the liver. Invest in Ceylon cinnamon (available online and in some health-food stores) so you can sprinkle generously without worry on fresh cut fruits and other foods. Here are a few simple ideas:
-Sprinkle on fresh orange slices or some raw almond slices.
-Add to smoothies, such as this delicious banana + almond smoothie. A great quick smoothie recipe: 1 banana, ½ cup ice, ½ cup unsweetened almond milk, 6 raw almonds, 1 date (pitted), 1 tablespoon Ceylon cinnamon – or more to your liking
-Add to your morning coffee.
CAYENNE
Cayenne kicks up the signature heat in Mexican cuisine, where I lived for a time and fell in love with the food. The capsaicin that gives it its heat is great if you are watching what you eat, as it can boost metabolism and reduce appetite. Additionally, some studies (in animals) have shown that capsaicin can aid in combating certain forms of cancer, including lung, liver and prostate cancer.
-Sprinkle it on Mexican-style grilled corn on the cob.
-Enjoy in the Rise & Shine elixir (recipe above).
-Add a kick to your avocado toast.
-Add to eggs along with turmeric.
-Add to your lemonade. This summer refresher with a twist is always a crowd pleaser on a hot summer's day: the juice of 4-6 large lemons, 1 tablespoon honey, 7-10 drops liquid cayenne or 2 tablespoons of powdered cayenne, add water & ice. Stir & enjoy
-Sprinkle on watermelon wedges for a refreshing palette cleanser at the end of a summer meal.
Original Article : https://www.yahoo.com/lifestyle/practical-real-life-ways-to-1501830038077494.html/