By Emma Loew – Original Article
To ring in this year's travel season, we're rounding up the best airport and packing pointers from the wellness insiders who are constantly on the move. Cheers to a summer of healthy, happy travel.
The wheels have touched down, and you've arrived at your destination. Phew! Are you more of a "take your phone off airplane mode and get lost in Instagram" type? Or a "finish your water and put on some oils to replenish moisture" type? Here's what a few wellness experts are doing to make their transitions to a new place as seamless as possible.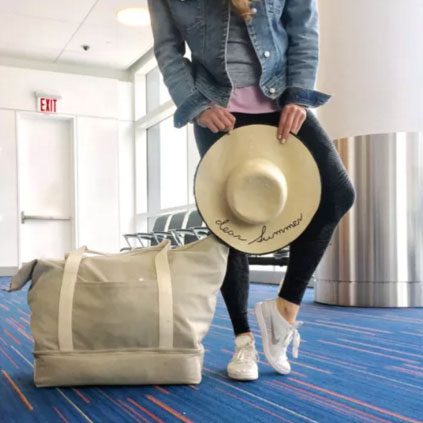 1. Get back into a routine.
Stretch! Coffee! Groceries! Literally in that order. I've already researched where I'm going because it makes traveling more normal on my body. I'll know the nearest cold-pressed organic juice, farm-to-table restaurant, and coolest gyms! Then I can schedule everything else conveniently.
—Rebecca Kennedy, Nike Master Trainer
2. Freshen up and get upside down.
I like to travel with an easy-to-access fresh outfit because I don't know how much time I'll have to go to the hotel and chill out before I have to get moving again. So I hit the bathroom, put on what's appropriate for the weather, freshen up my face, floss my teeth, and maybe brush if the water is OK. I also try to do a headstand as soon as possible or a handstand somewhere private to reduce inflammation in the legs from flying.
—Heather Lilleston, co-founder of Yoga for Bad People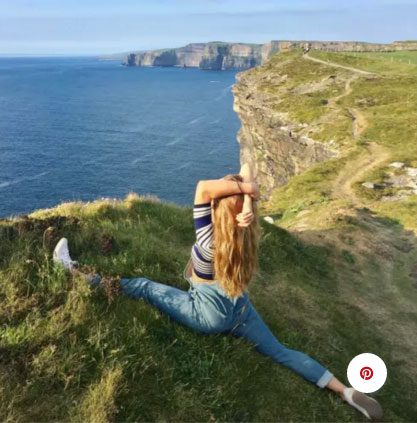 3. Hydrate!
I immediately find a water fountain to fill up my water bottle, and I chug 20 ounces of water. People don't realize how dry airplanes actually are! When you can rehydrate immediately after a flight, it kills jet lag and you get a surge of energy. I also have no shame doing some jumping jacks to get my body moving after I've gotten my bag and I'm waiting for my ride curbside. After that, I usually call my partner, Melissa, as well, to tell her that I arrived safely and that I love her. We have to remember what's important!
—Brock Cannon, outdoor adventurer and author of The Switchback Approach
4. Move all around.
Regardless of how long a flight is, I do side stretches and move as much as possible to get the blood flowing after sitting for hours.
—Erica Gragg, co-creator of wellness travel service Escape to Shape
5. Start exploring right away.
I leave no time to dawdle, as typically when I'm traveling to a new city, I want to make the most of my time. Most recently, I've been giving myself the time to see each city's botanical gardens and conservatories, which has been utterly enjoyable.
—Summer Rayne Oakes, environmental activist behind Homestead Brooklyn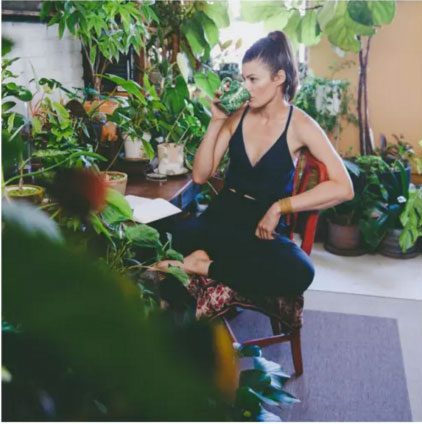 6. Learn the lingo and say hey.
I head to the toilet to wash my face, drink a bottle of water, and say hello in the local language to the customs official.
—Linden Schaffer, founder of Pravassa wellness tours
7. Wash away the day.
I always take a long, hot shower after a long, hot plane ride. I try to mindfully feel the warm water and smell my familiar products, and I imagine any ickiness from the airport and plane sliding off me and down the drain. It wakes me up and feels like a reset for the trip! If I can't take a full-on shower, I try to wash my hands and face for the same reason—getting rid of that recycled air.
—Andrea Bartz, wellness and travel writer