By Katie Maguire – Original Article
Following your wanderlust can take you far and wide—and there's no one-size-fits-all approach when it comes to planning vacation. But whether your idea of the perfect trip includes sunrise yoga classes or all-day spa treatments, there is one obstacle that, no matter the adventure, you'll have to face: your suitcase.
Because getting active while on the move means preparing for just about any situation you might face. (Like, whether or not you'll need to bring both your sweat-wicking running shorts and your water-repellent jacket with you on your Hawaiian vacation.)
But you don't have to dread packing like you dread the security line at the airport; Erica Gragg, co-founder of the wellness-minded trip-planning company Escape to Shape and all-around healthy travel expert, has mastered the art of packing light (while still looking cool). And yes, she's willing to share her secrets.
Originally posted May 24, 2016. Updated June 2, 2017.
Whether you're hitting the beach or the hiking trail, setting off on a tropical safari or sightseeing around a new-to-you city, Gragg covers all the healthy bases. Here are her travel necessities for every adventure.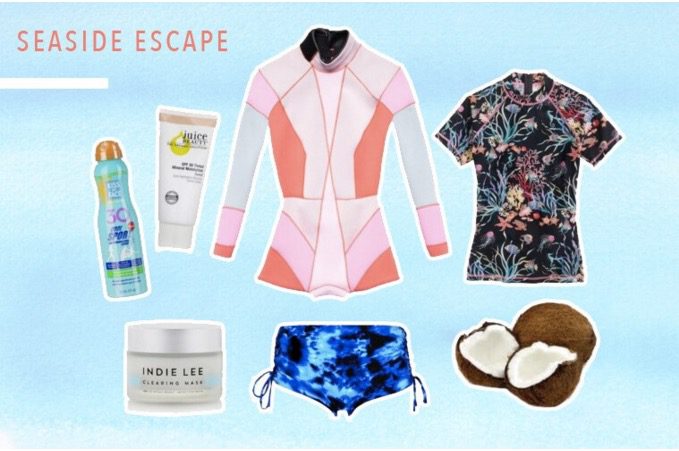 Seaside Essentials
1. Sunscreen
No matter the destination, sunscreen is a must. But especially for the beach, you want to make sure it's fast-absorbing, so it won't sweat off while on those beach runs, and is water-resistant—[especially if you'll be] paddle boarding and surfing.
2. A wear-everywhere bikini (or booty-shorts)
Bikinis that you can move in are an active beach getaway essential. I never leave home without a few pairs of K-Deer Bum Bums shorts, [because they're] great for water sports, beach walks, swimming, lounging, and yoga in any hot climate. The fun patterns and UPV 50+ sun protection are also a plus.
3. A good face mask
The combo of sunscreen and sweat can wreak havoc on your face, so it's important to always travel with a deep-cleansing mask treatment to deeply clean your pores and keep your skin refreshed.
4. A full-coverage swimsuit
Rashguards and full suits are also a beach getaway must—not only do they look great, but they also provide an extra layer of sun protection, are easy to move in, and can keep you warm if the water is a little cooler.
5. Coconuts
On all of our Escape to Shape beach locations, coconuts serve double-duty as hand weights. It may seem silly, but they are such an easy way to keep up your strength training while away from home! Pick up a few that have fallen from a coconut tree while on your beach walk—find the weight that works for you, and a size that fits comfortably in your hands—and get moving. Plus, once you're done, you can crack them open for a refreshing and rehydrating treat.
Shop Gragg's Picks:
Juice Beauty SPF 30 Sheer Mineral Moisturizer, $29
K-Deer Bum Bum shorts, $36
Indie Lee Clearing Mask, $60
Cynthia Rowley Wetsuit, $235
J.Crew Short-Sleeve Rash Guard, $68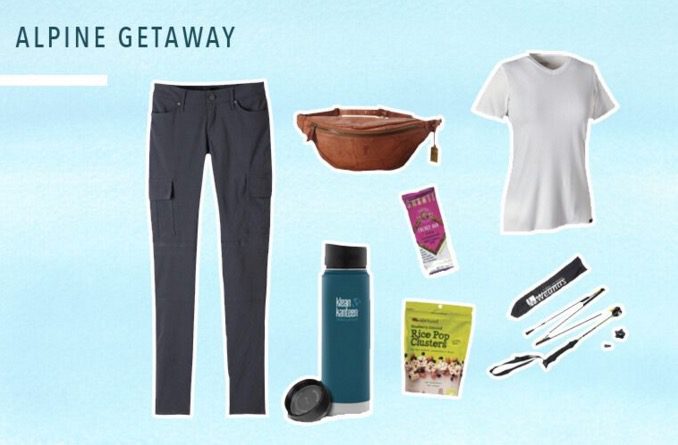 Alpine Essentials
1. Hiking Pants
I have yet to find a more stylish-yet-functional hiking pant than The Meme by Prana. Pegged leg hiking pants that come in great basic colors are not only essential to staying cool and dry on your hikes, but they're cute too! For the top, any basic tee will work just fine, but a fabric that is sweat-wicking and offers a little sun protection is always an added bonus.
2. Hiking poles
Ever since hiking the breathtaking Torres de Paine National Park in Patagonia, Chile, I have been obsessed with hiking poles. Not only are they easy to travel with—most are retractable— they provide just that bit of extra support needed when descending steep climbs. I never leave home without one, as you never know when a great hike will spring up.
3. A belt bag (AKA a fanny pack)
A stylish, yet practical belt bag is a great way to carry your sunscreen, lip gloss, healthy snacks, and cellphone while on a hike. I'm always on the hunt for cool ones that do not scream "tourist," and recently found one that is made of vintage leather. It's the perfect size—not too large, but large enough to carry the essentials—and is so much easier to access than a backpack. Plus, you can easily conceal it under a flowy top or jacket.
4. Reusable water bottle
Having plenty of water is essential when hiking, so I always bring a refillable water bottle with me. I like the Klean Kanteen Stainless Steel bottles—they are lightweight, clip on to your backpack or belt bag, and are free of BPA, phthalates, lead, and other toxins.
Shop Gragg's Picks:
PrAna Meme Pants, $59.50
Patagonia Capilene Daily Shirt, $29
Weanas Folding Collapsible Trekking Pole Climbing Stick, $18.99
Visconti Leather Fanny Pack, $32.99
Klean Kanteen, $22.75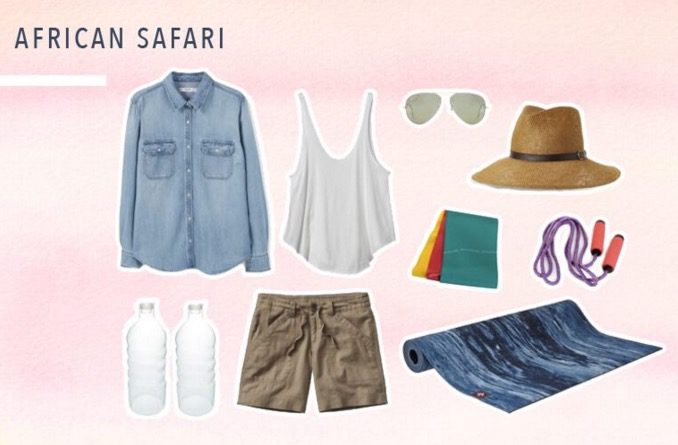 Safari Essentials
1. Layers
While it can be extremely hot during the day, early morning and evening game drives can be quite brisk. We always recommend our guests bring adequate layers—an extra layer of warmth or some wicking fabrics can come in handy when out all day.
2. Polarized sunglasses
The sun is harsh on the savannah, so while sunscreen should be a given, polarized sunglasses will also help protect your eyes.
3. Safari hat
A wide-brimmed hat will protect you from the harsh African sun—just make sure it stays securely on your head when in motion. And be sure that you can see well while wearing it, because you definitely don't want to miss anything!
4. Easy-to-pack fitness essentials
Whether exploring Botswana, Kenya, or South Africa, safaris are life-affirming, highly addictive, and incredible experiences. But the one—and only—reoccurring complaint I hear is that while there is an abundance of delicious food and lots of downtime between game drives, there's no exercise worked in. A few small items will help you fill in the time with some healthy movement that can be done anywhere.
5. When in doubt, grab a bottle
When we are traveling with our Escape to Shape guests to remote locations, we often use full water bottles as weights. Available almost anywhere, they are easy to hold and easy to use. You use them the same way you would hand weights back at home—no packing required!
Shop Gragg's Picks:
RVCA Drape Tank Top, $17.50
Patagonia Women's Island Hemp Shorts, $39
Mango Chest-Pocket Denim Shirt, $59.99
Ray-Ban Aviator Polarized Sunglasses, $180
Kathy Jeanne Safari Hat, $30
Jump Rope, $6.99
Resistance Bands, $14.99
Manduka eKO Lite Yoga Mat, $72
Epica Glass Water Bottle, $19.95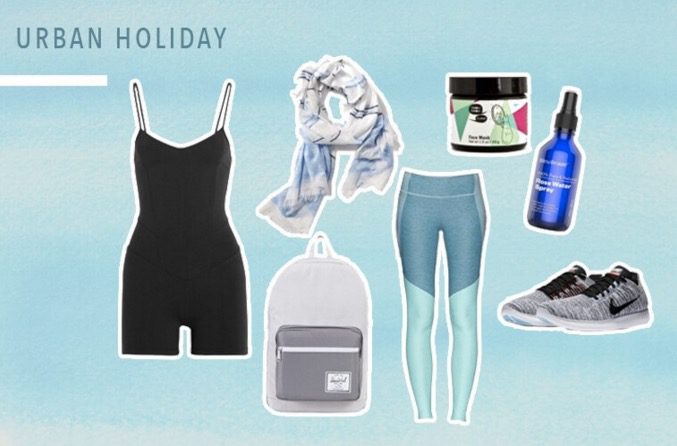 Urban Essentials
1. Leggings
So many of the world's greatest cities now offer first-rate fitness studios and classes, which makes it extra fun to try out new workouts—whether you're in Paris, Rome, Istanbul, New Orleans, Hong Kong, or Bangkok. Plus with all of cute activewear out there, it makes it even easier to travel in style. I always travel with activewear that, when accessorized, can take me from meandering the city streets to working out. Some of my current favorite leggings are theWarm Up legging from Outdoor Voices. And for a sublime yet subtler look, Live The Process has beautiful workout spandex pieces that layer well with dresses and sweaters.
2. Good shoes
I will never venture out into a city without incredibly comfortable and cute shoes—whether you prefer flats, running sneakers, or Stan Smiths, you need to make sure you have comfortable shoes. But if you're wearing activewear, running shoes are an easy match. A neutral pair can look cute with dresses and pants, too.
3. A layering scarf
Florence Teillet is a French designer living in Marrakech who designs beautiful textiles in the Moroccan tradition, but with a modern edge. I love to travel with one of her scarves—they're perfect for the chilly plane ride, lounging on the beach, or for a stylish extra layer of warmth in the city.
4. Hydrating facial spray
Hydrating face mist is great for any destination and helpful while flying—it's the perfect refresher post-workout, post-city stroll, or while en route to your next destination.
5. Recovery face mask
I apply a thin layer of a nutrient-rich mask before bedtime any time I'm traveling in an urban setting. The dust and grime of a city is inevitable, but fall asleep with a great mask on and you'll wake up with plump, glowing, hydrated skin.
6. An easy-to-carry bag
When you're walking around a city or urban destination all day long, you want to have a lightweight bag that is hands-free. Any backpack will do, but you should have your hands free for exploring!
Shop Gragg's Picks:
Live the Process Stretch-Supplex bodysuit, $180
Outdoor Voices Dipped Warmup leggings, $64.41
Nike Free RN Flyknit Women's Running Shoe, $130
Old Navy Mixed Pattern Gauze Scarf, $14
Bleu Beauté Rose Water Spray, $17.95
Meow Meow Tweet Face Mask, $30
Herschel Supply Co. Backpack, $74.99
Not quite sure what the weather's going to be like at your destination? Go for a cropped legging. And every seasoned traveler knows it's all about the layering—our guide should help.