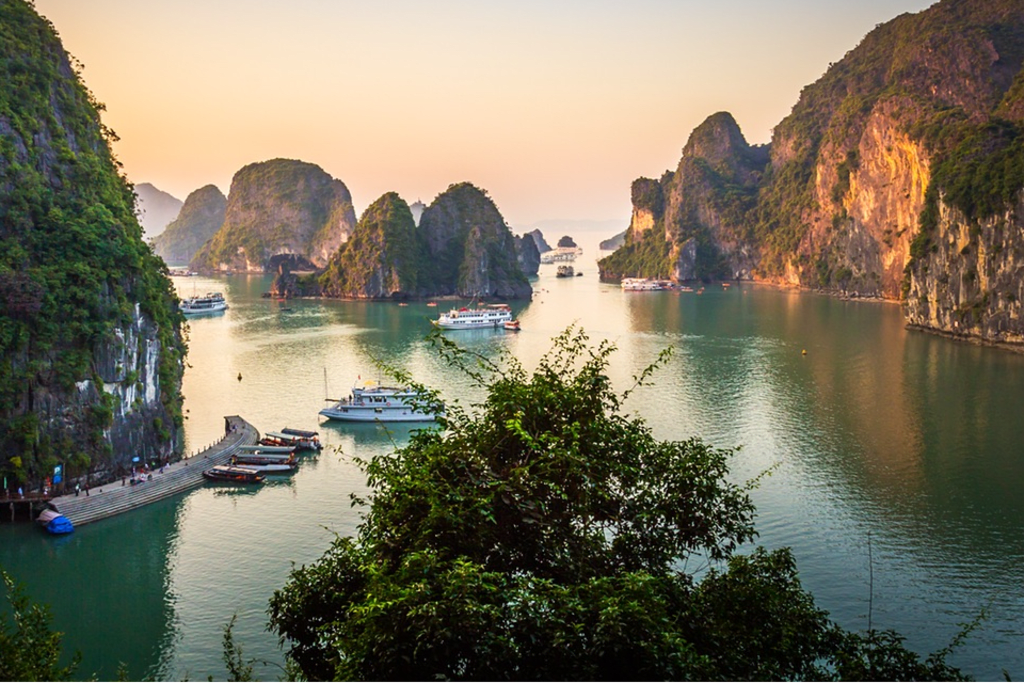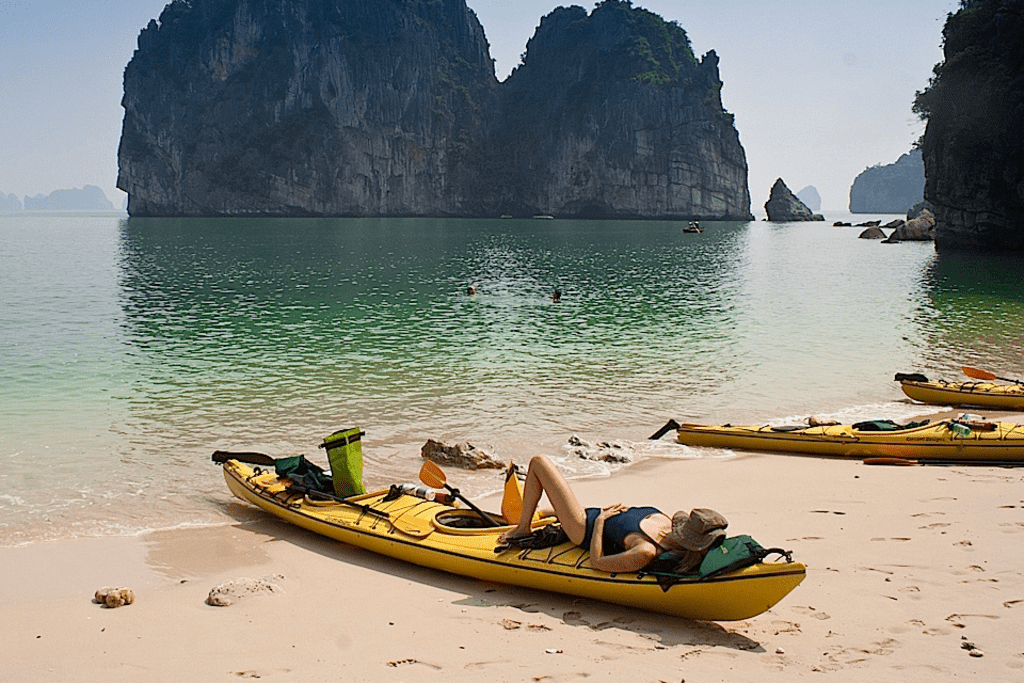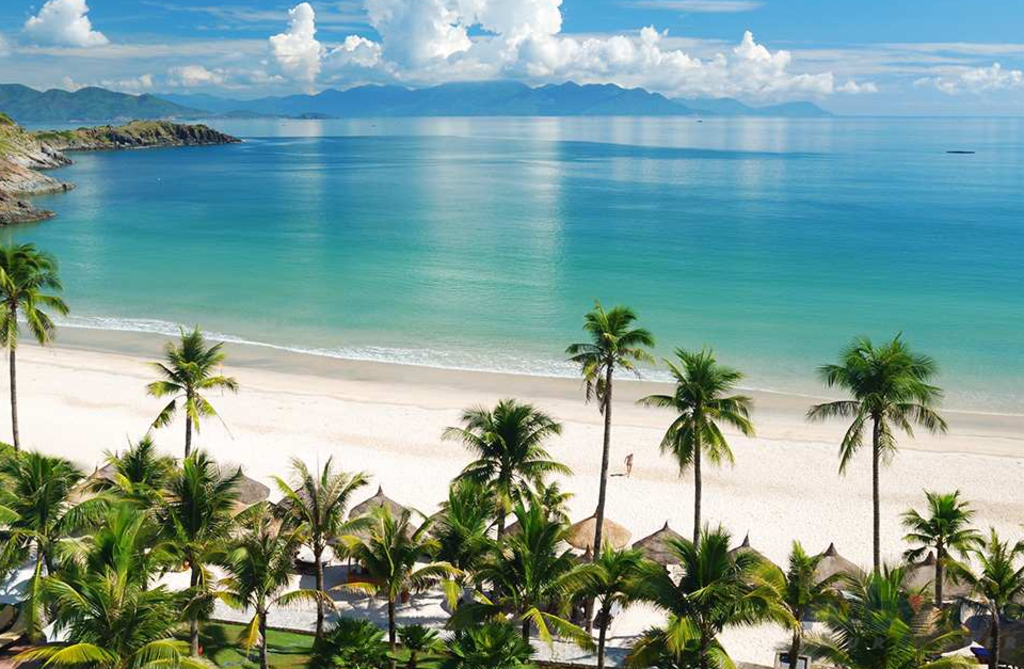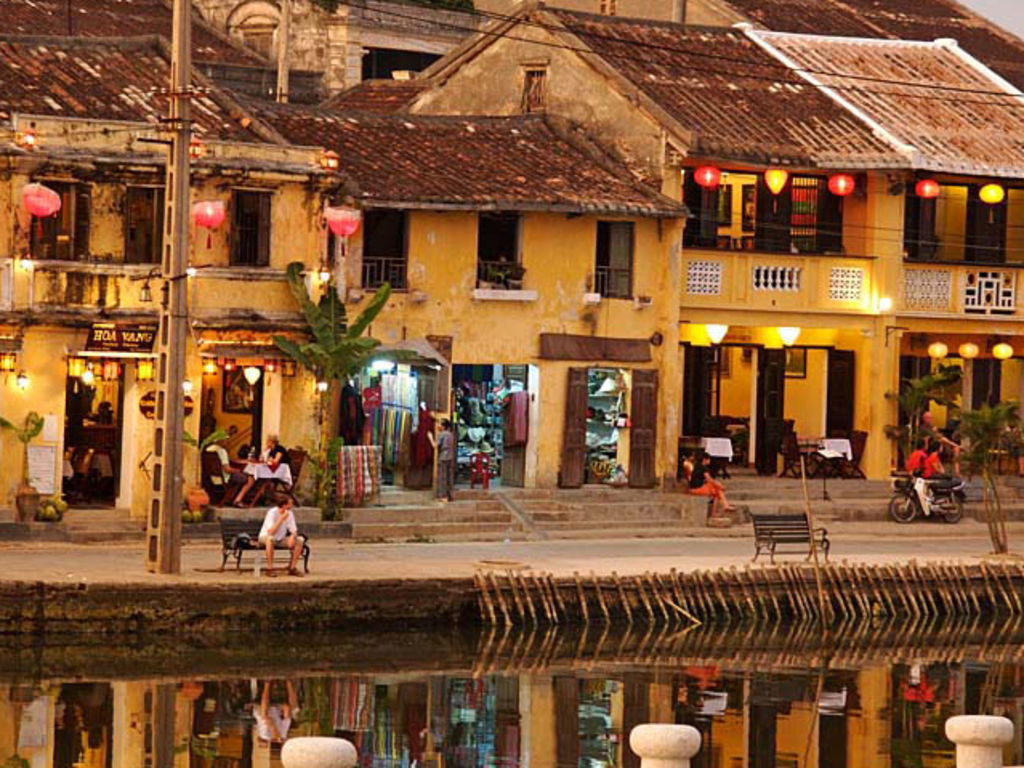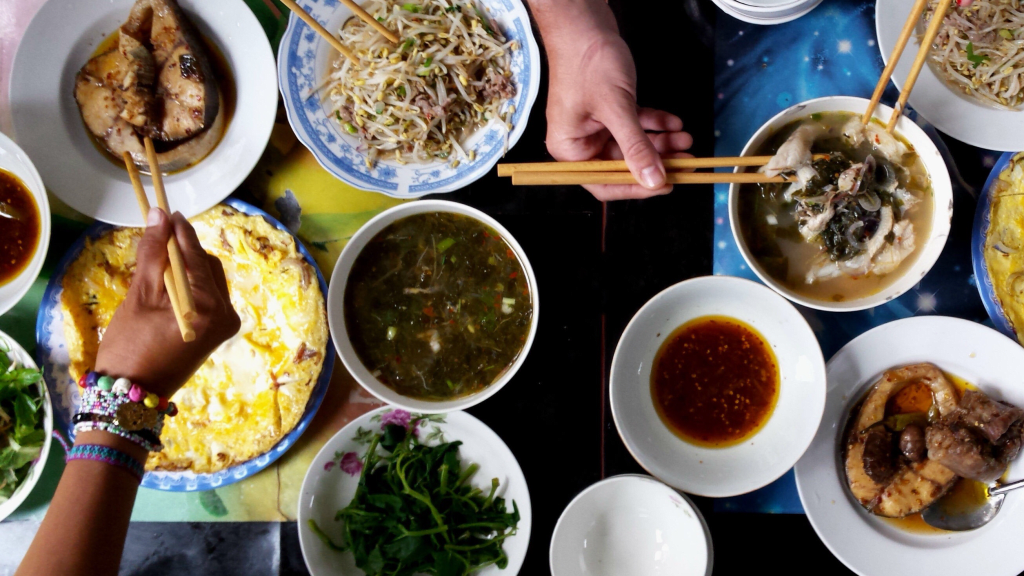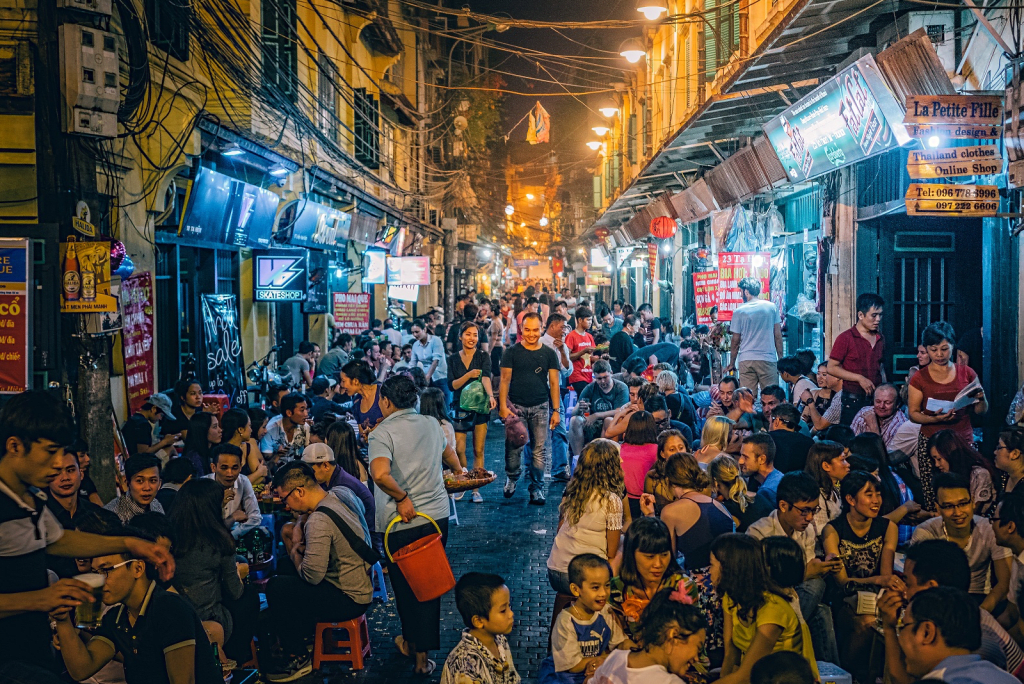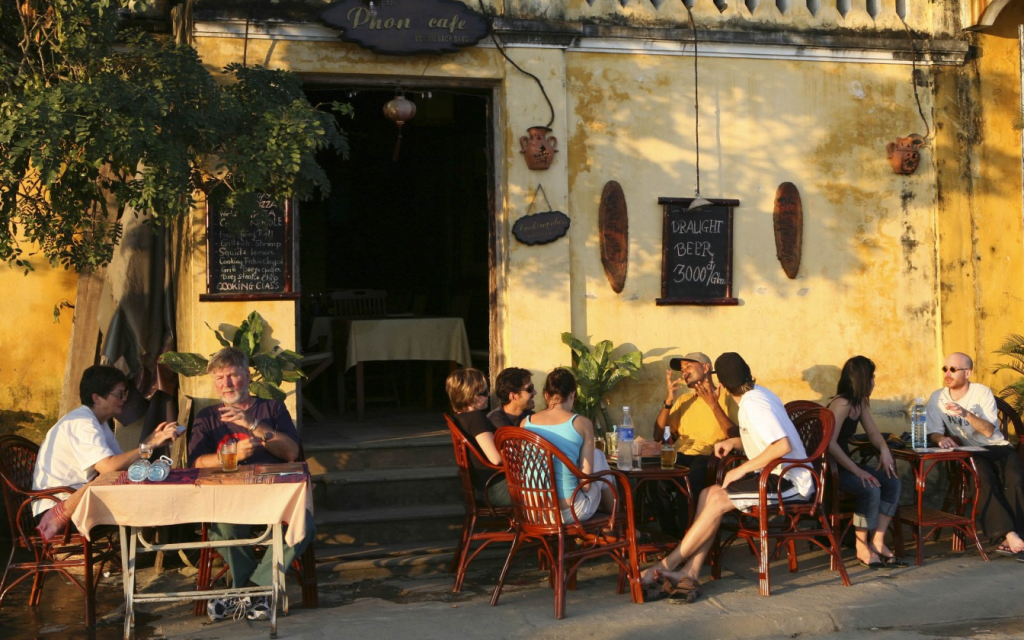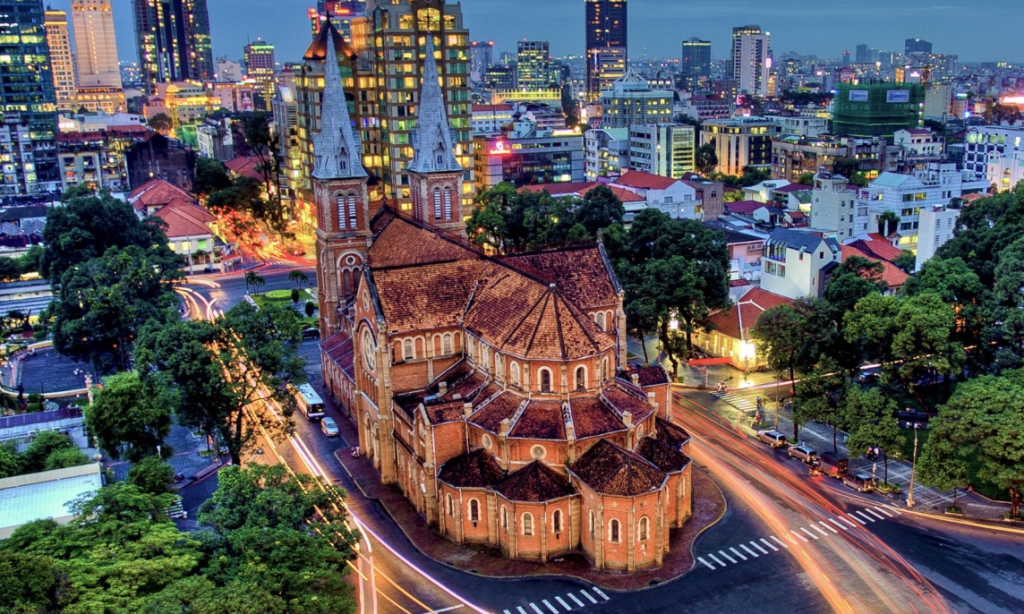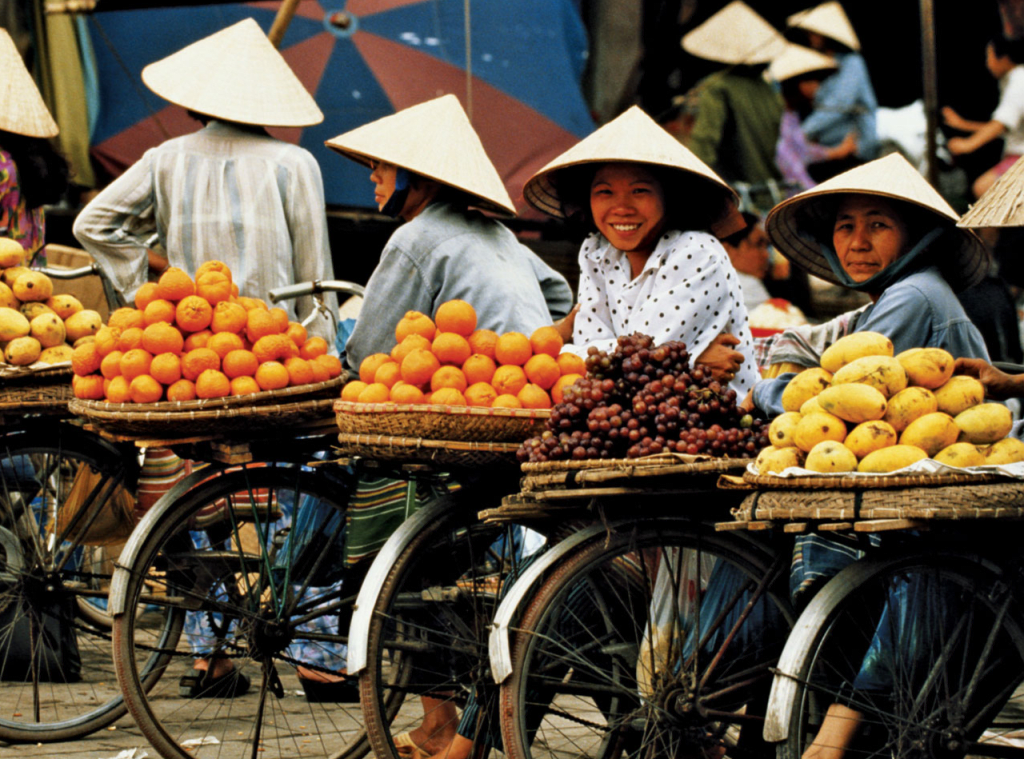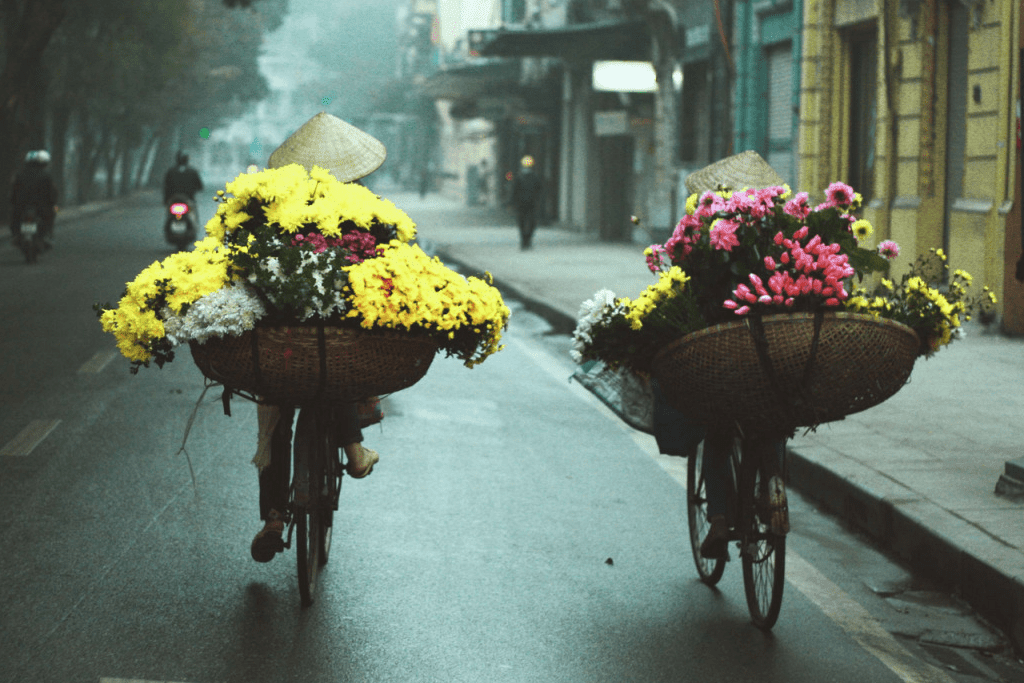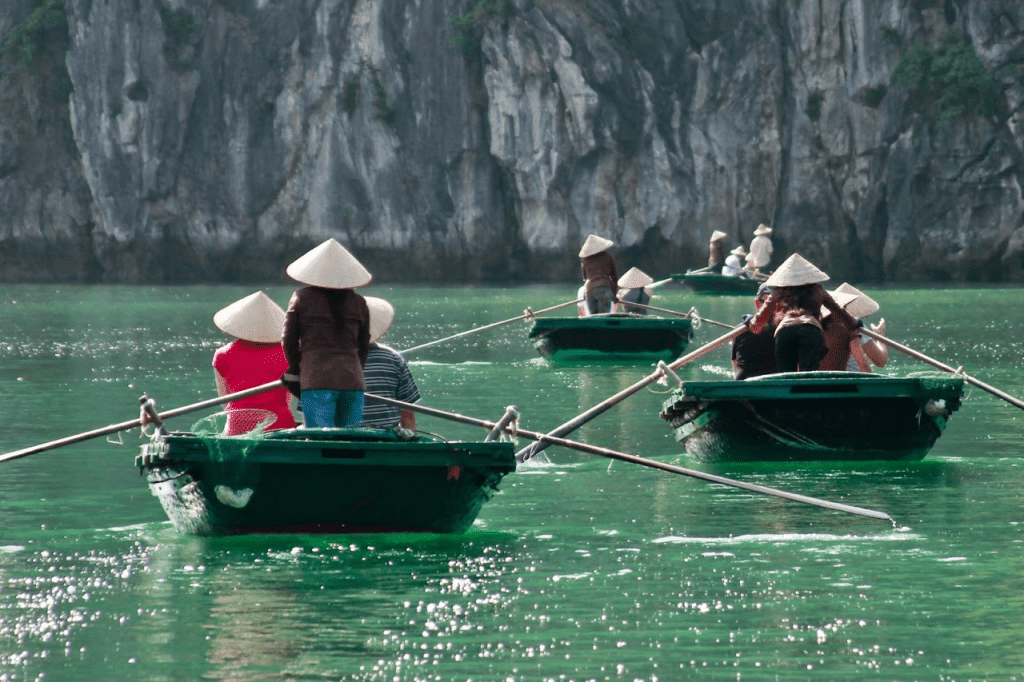 From Hanoi to Ho Chi Minh
Hanoi, Halong Bay, Hoi An, Ho Chi Minh, Vietnam
I just wanted to thank you again for opening this door for all of us. It is a gift that will remain with me forever. Words can't convey just how grateful I am for all that you and Francesco do for each one of us with these journeys. Truly an experience of a lifetime that I will never, ever forget!
-- S.C.
---
Boot Camp. Yoga. Meditation. Tai Chi. Biking. Kayaking.
Delicious local & seasonal cuisine, such as fresh spring rolls (Goi Cuon), Pho, Cha Ca, Cao Lau & tropical fruits are always in abundance. And who doesn't enjoy classic cocktails beachside or on a private boat deck? Plus, enjoy a hands-on cooking class so you can impress friends & family back home. Gluten free or vegan? We've got you covered!
True, you can visit Vietnam and stay in inexpensive, mediocre hotels, but then you would miss all the glamour, sophistication & style that our ultra luxe best-of-the-best hotels have to offer. Love luxury & accommodations seeped in history and/or authenticity? Then book fast, as space is extremely limited!
Please note that other than on our private junk boat on Halong Bay, we will be sharing our five star hotels with other discerning travelers.
Vietnam is a vast country that is nearly impossible to cover in one trip- but we will definitely experience a lot of it! A hand-selected curated itinerary showcasing the various landscapes as well as the history and evolution of this vibrant country - a country of contrasts, of culture, of history and of natural beauty- awaits!
---
Join ESCAPE TO SHAPE as we explore the astonishingly exotic and utterly compelling, Vietnam- a country of breathtaking natural beauty with a deeply rooted history and an incredible heritage that will quickly captivate each visitor. Explore & experience the very best of four distinct areas of this vast country- the vibrant Hanoi, the natural beauty of Halong Bay, the culturally rich Hoi An and the historical Ho Chi Minh City (Saigon).
Please note that this Escape will only take place if 14 guests have registered with a deposit by December 1, 2017. We ask that you do not purchase flights until we confirm. There has been a lot of requests for a Vietnam Escape so we have a feeling we will meet this number long before December 1, and will let you know just as soon as we do. If 14 guests have not registered with a deposit by December 1, 2017 your deposit will be fully refunded.
---
Includes
9 nights luxury accommodations throughout Vietnam as noted in ACCOMMODATIONS
3 delicious, healthy meals & snacks reflective of the region & the season are provided daily. Meals are enjoyed in the hotels & on our private boat, as well as in noted restaurants of each region
Various fitness activities- Boot Camp, Yoga, Meditation. Tai Chi. Biking. Kayaking. Activities will vary according to the location
Economy class tickets from Hanoi to Hoi An (Da Nang) & Da Nang to Ho Chi Minh City
Explore historical Hanoi by cyclo- a time-honored method of transportation
Experience the highlights of Hanoi- The Temple of Literature, The One-Pillar Pagoda, The Mausoleum of Ho Chi Minh and of course, even a bit of shopping
Experience the beauty of Halong Bay- by boat & by kayak. Explore the caves & the floating villages
Walking tour of UNESCO protected charming Hoi An
Explore the time-honored tradition of lantern making
Free time to enjoy the beach or to stroll the charming streets & boutiques of Hoi An
Bike ride through the country roads & rice fields (all levels)
Herbal foot massage
A guided tour of the food market, before enjoying a hands on cooking class of local delicacies of the area (Hoi An)
A speedboat cruise on the Mekong River, ending at the famed Cu Chi Tunnels for a guided tour of this elaborate underground community
Wartime historical tour in Saigon
Old Saigon guided tour to explore the architecture, temples, pagodas, shops and hidden secrets
Transportation for all included activities
Round trip ground transportation from the Hanoi Nội Bài International Airport (HAN) on April 7 & Ho Chi Minh Tân Sơn Nhất International Airport (SGN) on April 16
Please note that April 16 is a full day of activities. Please plan your departure flight for that evening
---
Rate
$2000 non-refundable deposit per person. Please refer to the policies page of our website for our complete cancellation policy.
---
Accommodations
While in Vietnam, guests will experience the very best of accommodations. From the Indochina glamour of the Sofitel Legend Metropole in Hanoi, to our own private luxury junk boat on Halong Bay; the beachfront elegance and sophistication of Four Seasons Resort The Nam Hai in Hoi An and the eclectic style of The Reveire in Ho Chi Minh City (Saigon), each unique property showcases the very best of Vietnamese luxury, culture, cuisine and style.
Here is an overview of where we will be staying, and when:
April 7-9. HANOI. SOFITEL LEGEND METROPOLE.
Step back into history at Hanoï's most storied 5-star hotel. A Grand Dame of Southeast Asia, Sofitel Legend Metropole Hanoï welcomes guests to experience her colonial grandeur and timeless elegance. Located steps from the Opera House in Hanoï's French Quarter, this legendary property brings guests into intimate contact with the opulence of another era.
April 9-11. HALONG BAY. PRIVATE JUNK BOAT.
Our private luxury junk boat will take us on an enjoyable, relaxing & interative cruise to explore the beauty of Halong Bay. Each air-conditioned cabin features classic dark wood furnishings accompanied by sweeping sea views. The boat is complete with a spa and sauna as well as a large terrace and dining room.
April 11-14. HOI AN. FOUR SEASON RESORT THE NAM HAI.
Embellishing Nam Hai heritage with Four Seasons flair, Four Seasons Resort The Nam Hai is a harmonious ode to coast, culture and community in Vietnam's UNESCO-strewn centre. Once a fishing village – with a historic temple preserved on site – the Resort presents an authentic connection to the region through is design and location. Located on a private one-kilometre (half-mile) stretch of Ha My Beach – hailed by Forbes as one of the best beaches in the world – the Resort is reborn under Four Seasons as a beacon of beauty that reflects the soul of Vietnam's cultural heartland and illuminates the spirit of all who visit.
April 14-16. HO CHI MINH CITY (SAIGON). THE REVERIE.
Ranked as Vietnam's top hotel, the Reverie Saigon is definitely a hotel like no other. Here, the old and the new, the traditions and modernity harmoniously mingle. Given that the hotel is considered a symbol of Vietnam's rapid development as it speeds towards modernity, brimming with endless potential, The Reveries is the perfect place to end our journey through Vietnam. Furnished in a fanciful, eclectic style, all of The Reverie Saigon's 286 guestrooms pay homage to the Italian passion for exquisite décor, artistry and craftsmanship. Paired with luxurious facilities and amenities, the experience of seasoned hoteliers and the warmth of distinctly Vietnamese hospitality, THIS is The Reverie Saigon and nothing quite like this has ever existed in Vietnam before- This is Haute Ho Chi Minh City…
---
Sample Itinerary & Menu
Sample Days At Escape To Shape: From Hanoi To Ho Chi Minh, Vietnam
Please note all activities are optional
DAY 1
Arrivals Throughout The Day
1:00pm – Lunch
3:00 pm- Yoga & Mediation
5:00 pm - Cyclo Tour of Hanoi- explore the vibrant Old Quarter by the time-honored mode of transport, the cyclo
7:00 pm - Dinner & Orientation
DAY 2
7:00- 10:00 am - Breakfast Available At Your Leisure
10:00 am- Depart for a full day of discovery in Hanoi- from the Temple of Literature to the One-Pillar Pagoda, the Mausoleum of Ho Chi Minh, Lunch, and of course, some shopping
8:00 pm- Dinner
SAMPLE MENU
DAY 1
Breakfast Buffet
Eggs prepared to order
Home made muesli with dried fruits & home made yogurt
Pho
Fresh tropical fruits
Fresh juice
Coffee & tea
Lunch
Fresh vegetarian spring rolls (Goi Cuon)
Cha Ca- fish cakes with rice noodles & peanut sauce
Exotic Fruit Platter
Mid-Afternoon Snack - Hummus with carrot & celery sticks
Dinner
Vegetarian steamed buns
Bún chả- Vietnamese pork
Petite sticky rice cake with fresh banana coconut cream
---
Teachers
Erica is an acclaimed yoga teacher, known for teaching a strong, yet playful Vinyasa flow practice. She is largely inspired by the journey of yoga, the subtle to the grand discoveries each individual makes through their practice, inviting students to have fun while experiencing their body in a whole new way through each unique practice. With classes always set to music, from tribal, to lounge to classic rock songs, students are able to find their own personal rhythm and expression through each asana. Additionally, Erica is co-founder and co-owner of Escape To Shape, which she created to fill a gap in the travel & wellness market- combining her two passions into one unique, memorable and results-driven holiday. Erica contributes to AFAR, Huffington Post, MindBodyGreen, Charlotte's Book and Well + Good, amongst others, as a Travel & Wellness Expert.
---