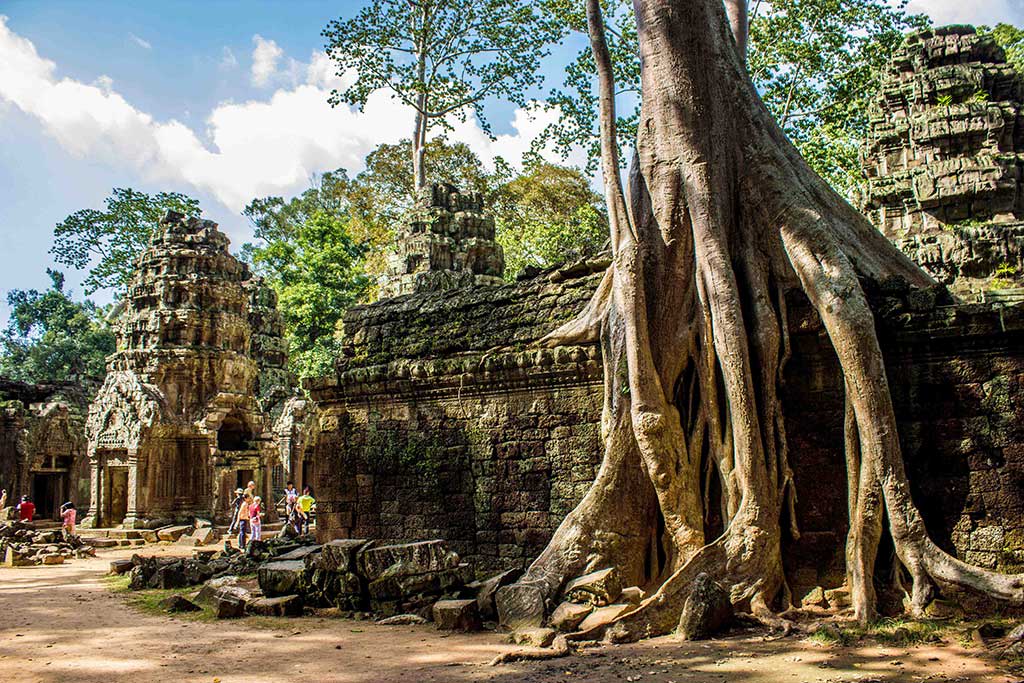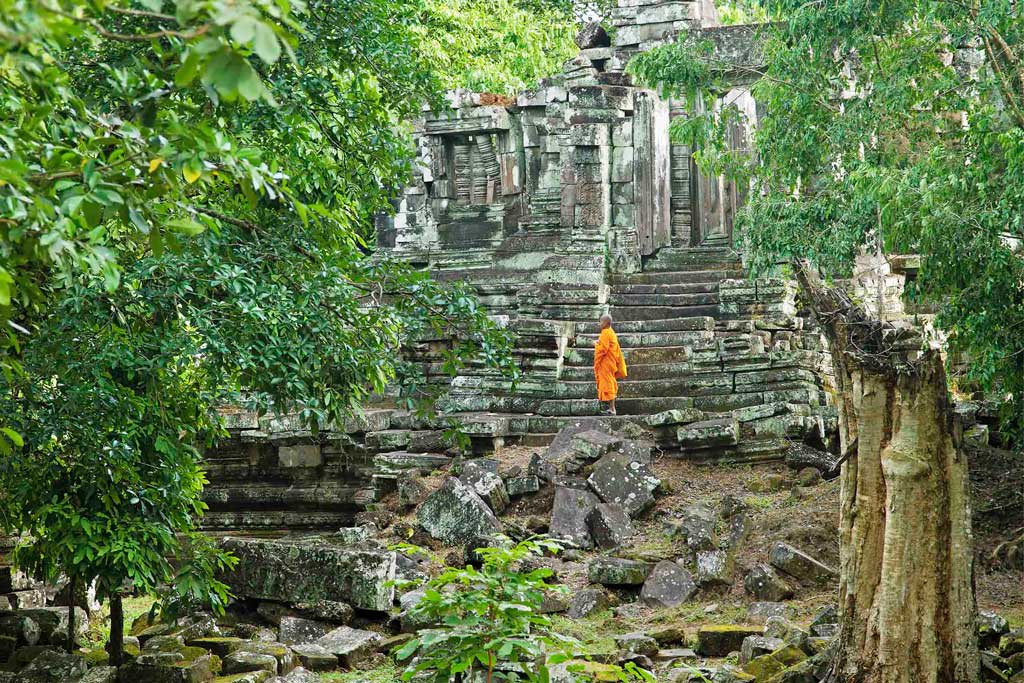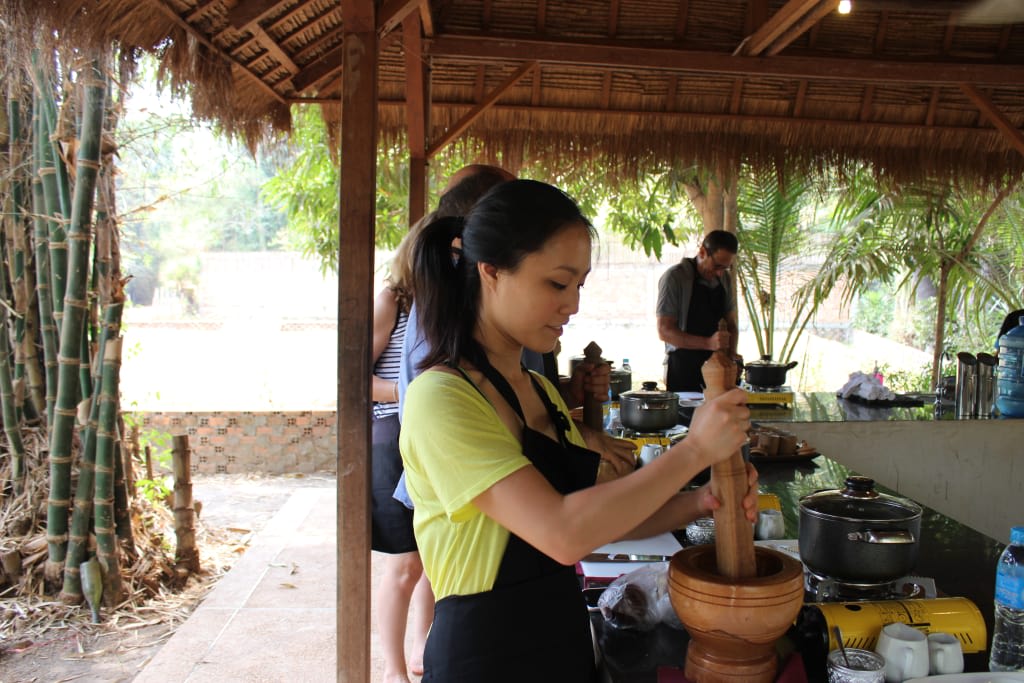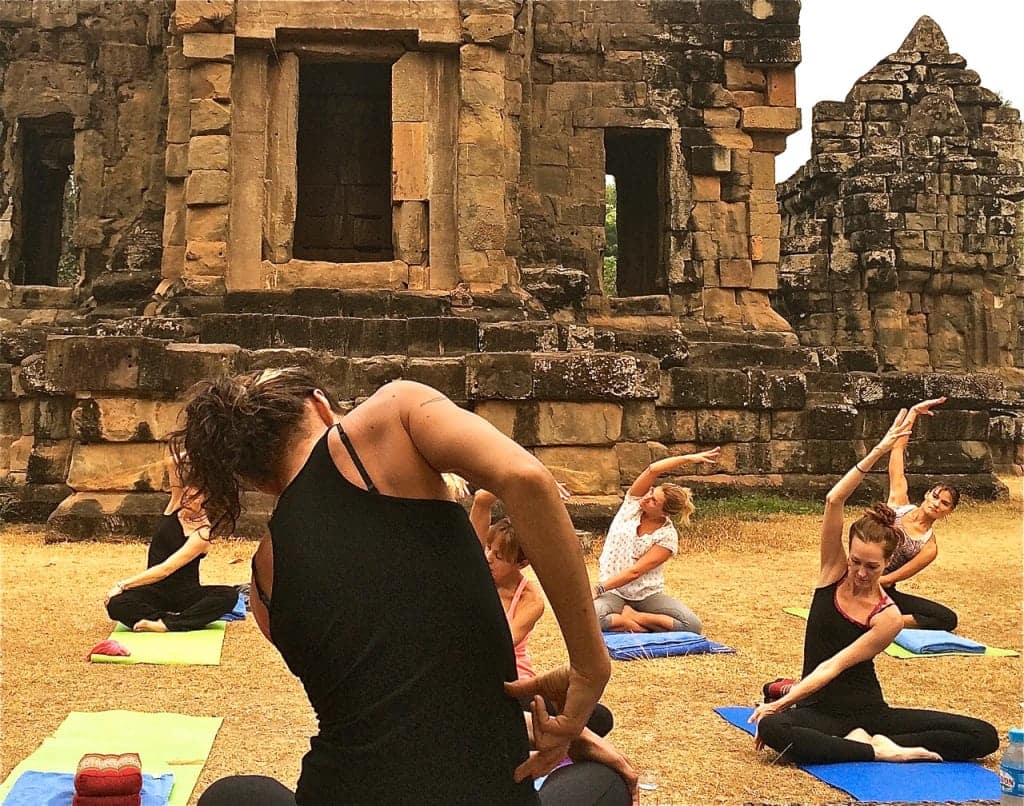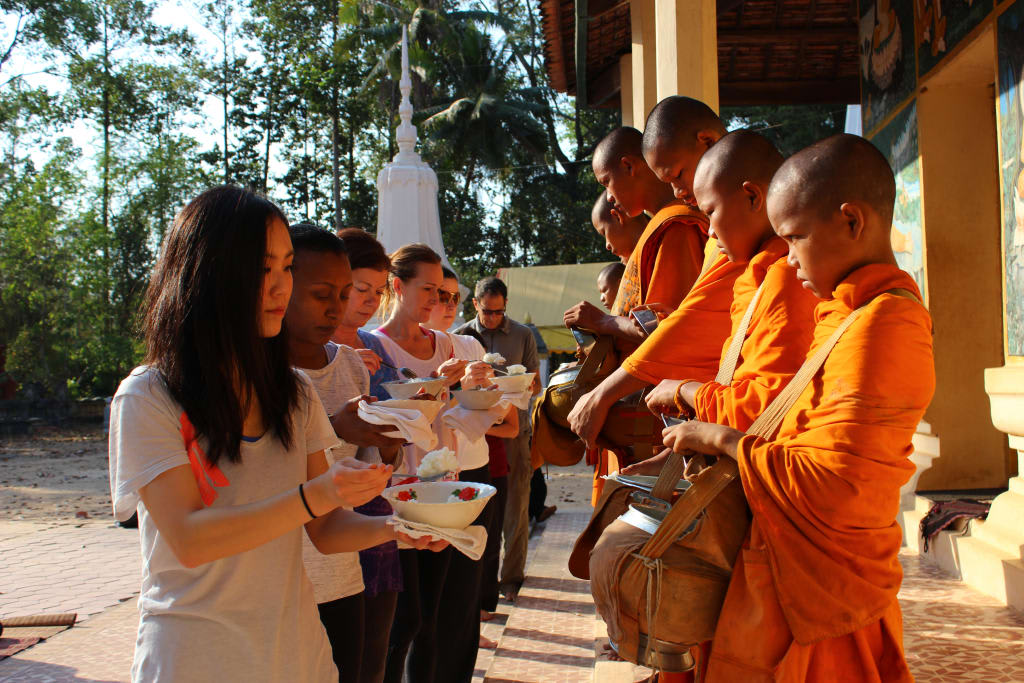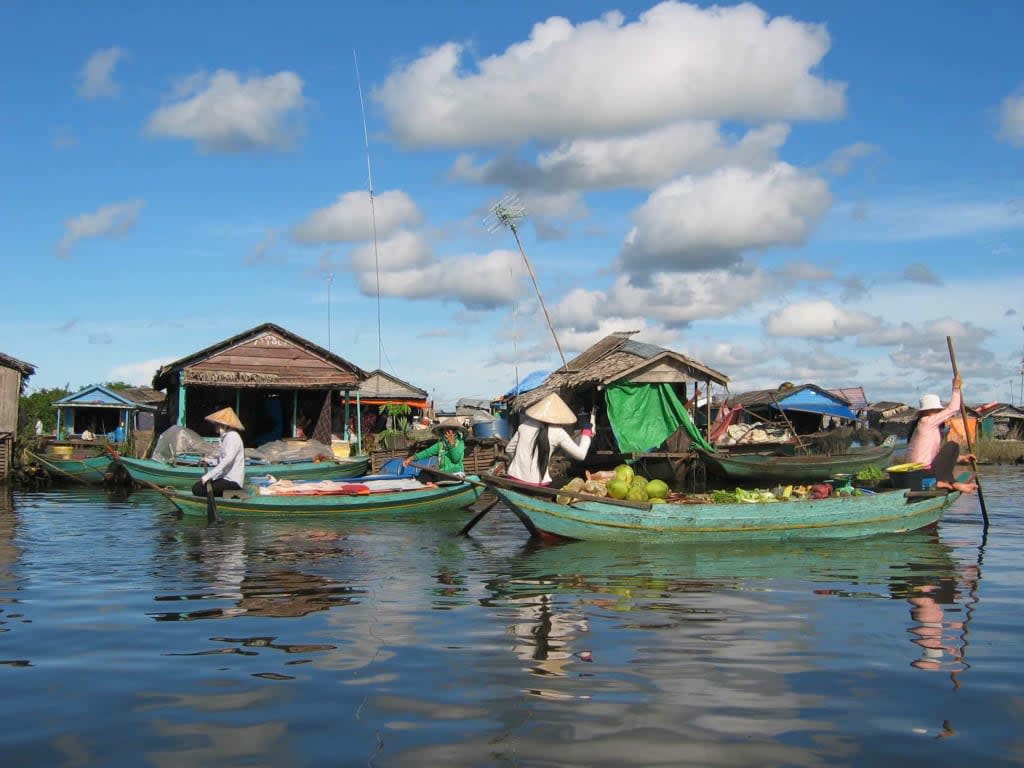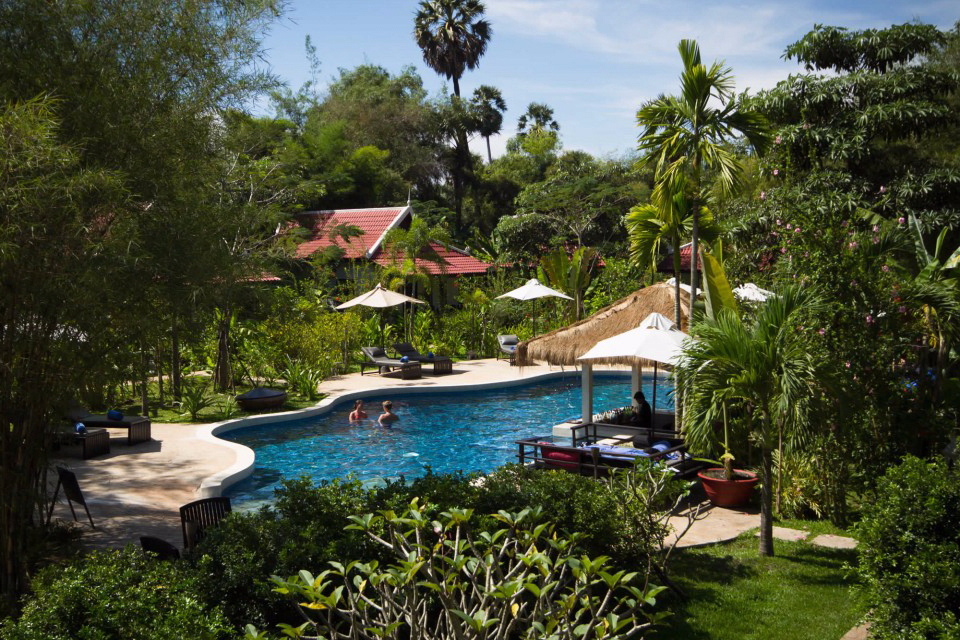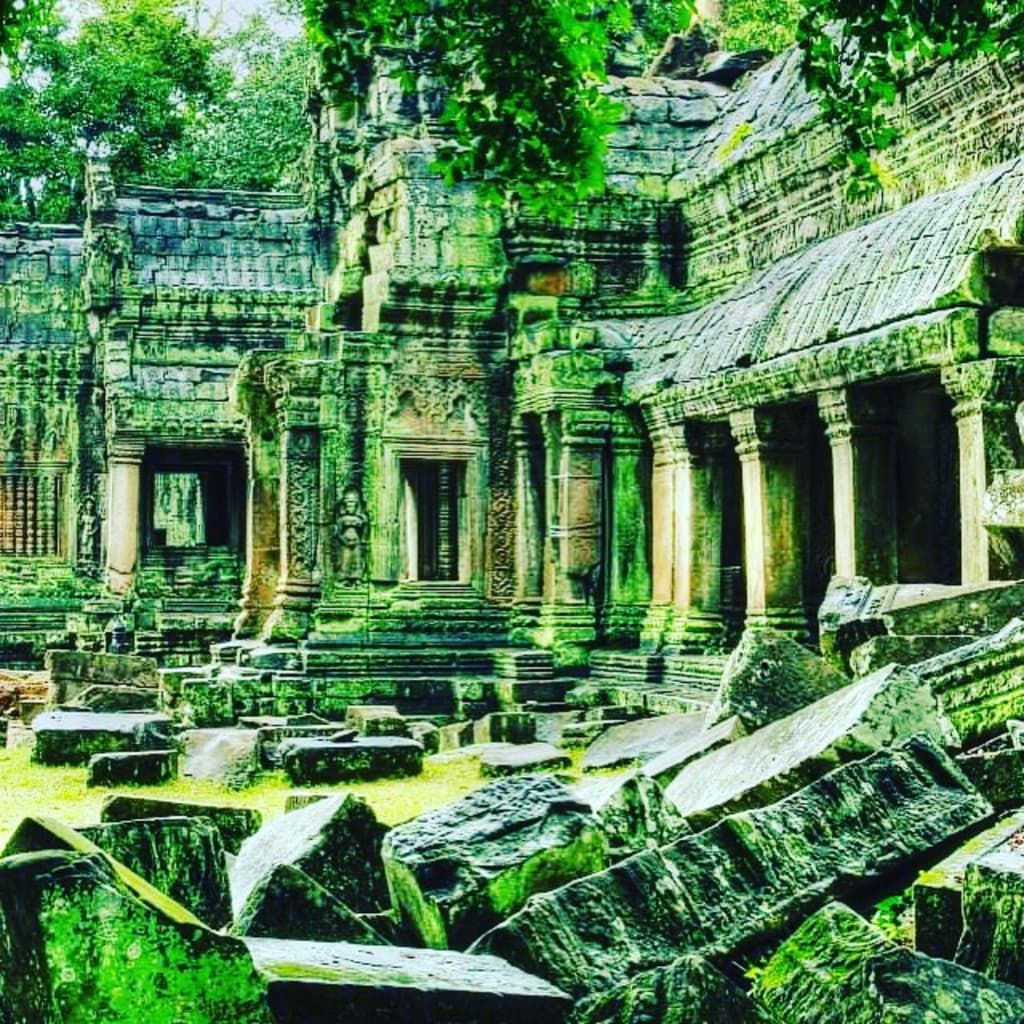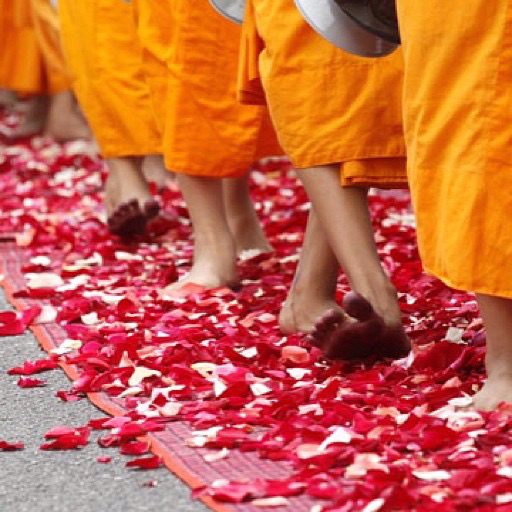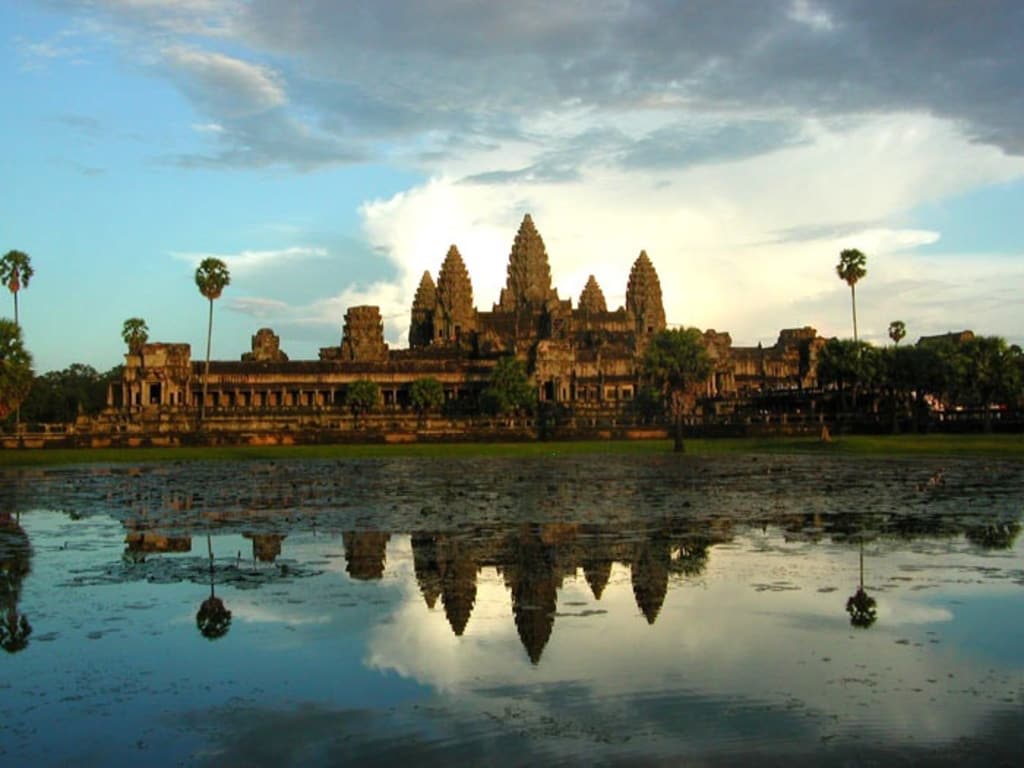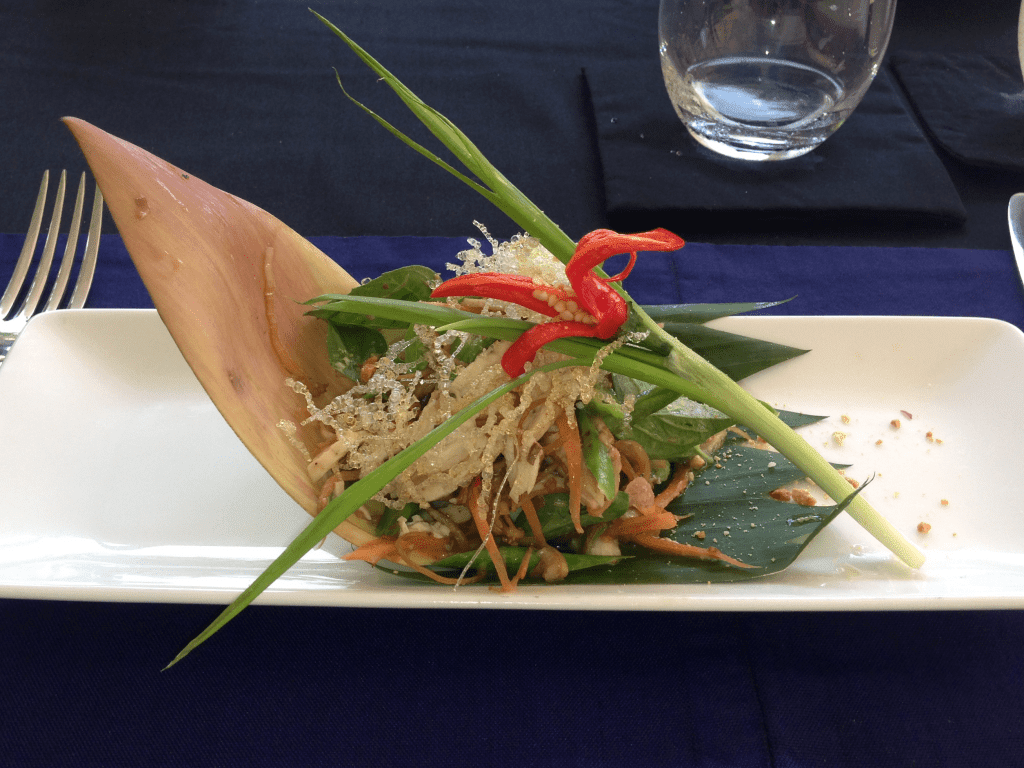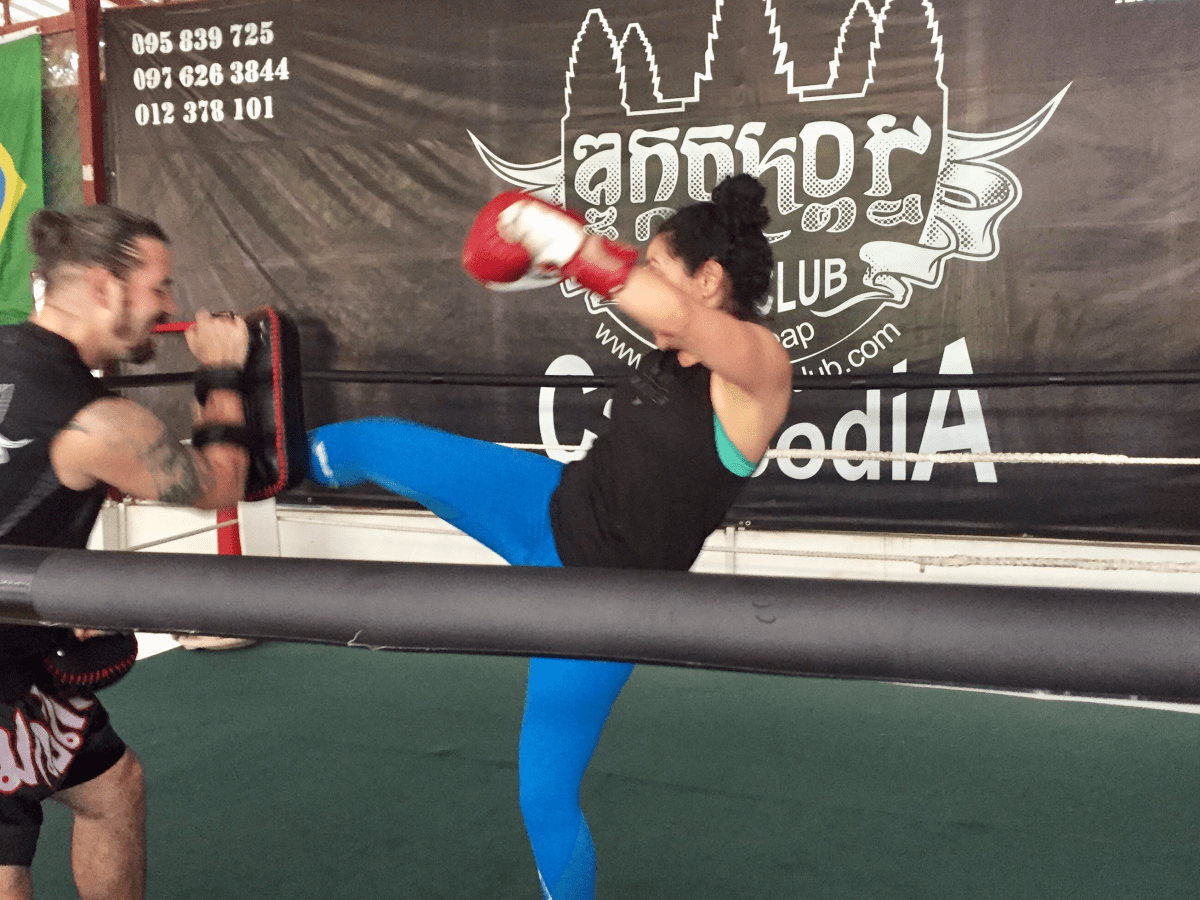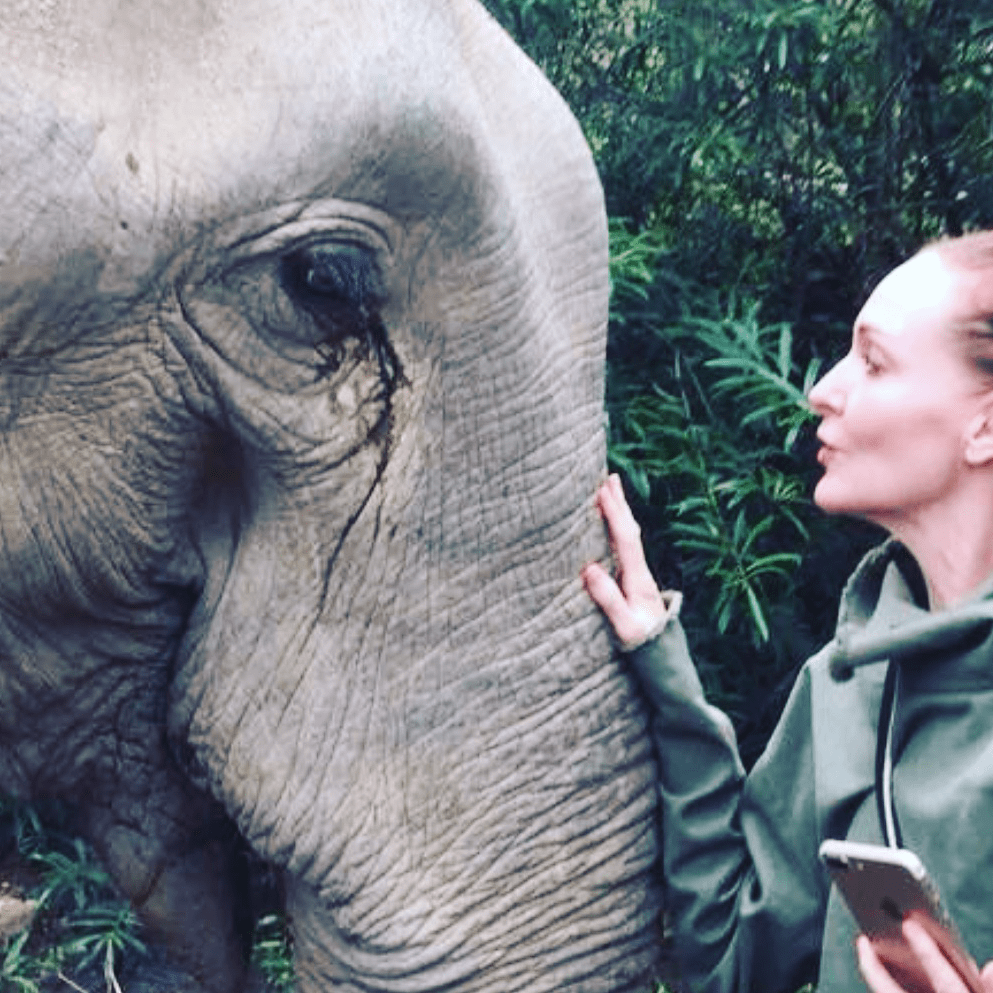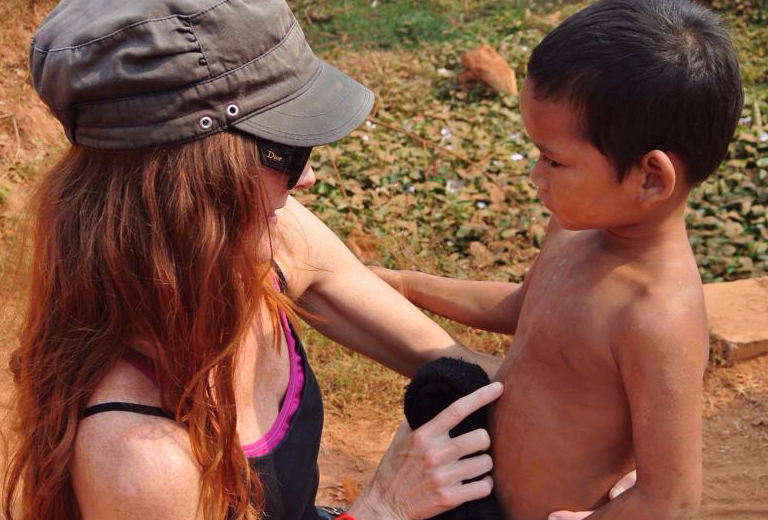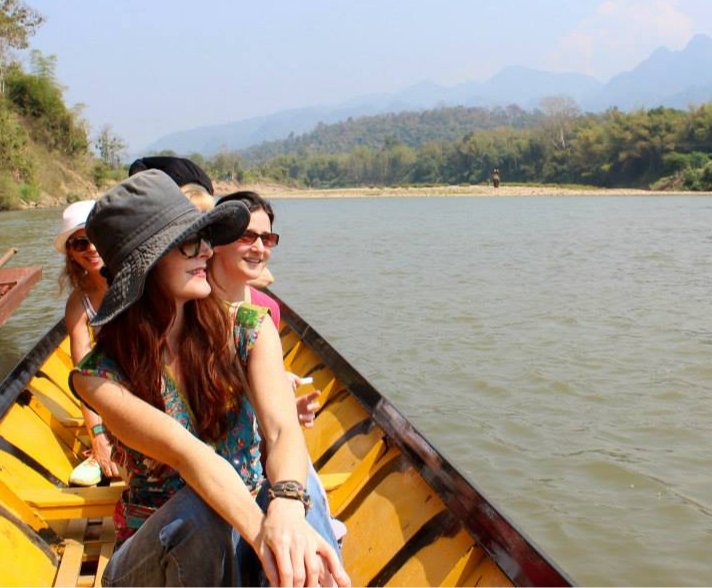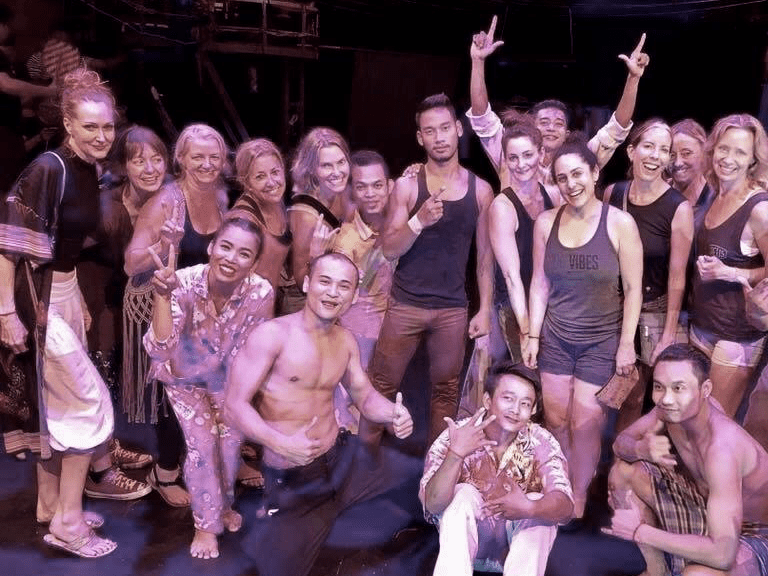 Exploring South East Asia
Siem Reap & Luang Prabang, Cambodia & Laos
I went to Cambodia with Escape to Shape in February and it was AMAZING. This was my third Escape (and that should tell you how wonderful these trips are if I keep coming back!) and I loved every second. From the accommodations (an outdoor shower, huge bed, sofa to relax on, a little porch to sit on and watch the stars!) to the food (healthy and fresh and yummy) to the yoga to the amazing amazing amazing experiences (cooking class with a visit to the local market to learn about the ingredients; participating in an alms ceremony with the monks; walking thru the local village & interacting with the villagers in meaningful ways; dinner in the rice fields; shopping in the night market; and the TEMPLES plus so much more!!!!!) this trip was more than I had hoped for but definitely not less than I expected. Escape To Shape puts together spectacular trips and the hosts Erica and Francesco go out of their way to make you happy. I can't say enough positive things about Escape To Shape. And I can confess that a few days after I returned from Cambodia I put my deposit on the October trip to Cartagena. Hooray!
-- April G.
---
Yoga. Meditation. Khmer Boxing. Lots of Walking. Massage. Giving-Back.
Delicious local & seasonal cuisine, such as fresh spring rolls, coconut amok, larb & tropical fruits are always in abundance. And who doesn't enjoy cocktails made with fresh, local coconut water? Plus, enjoy a hands-on cooking class so you can impress friends & family back home. Gluten free or vegan? We've got you covered!
Two truly inviting oases - one in the midst of an authentic Khmer village, the other hidden along the riverside. Both, lush & tropical with a staff so warm & invitiing you may never want to leave.
Because we believe that a well balanced holiday is not just about receiving but about giving back as well, join us as we support HUSK, a non-profit that works to not only improve the lives of the local impoverished, but to educate them & teach them skills to improve not only their future but the future of generations to come. Just by joining us on this Escape you are making a difference in the local people's lives as a portion of your payment goes to support the efforts of HUSK.
Bucket List Escape. This trip offers you the opportunity to connect with both the Khmer & Lao cultures in the most magical of ways. Prepare to have your heart broken open wide.
---
ESCAPE TO SHAPE is offering a 10 day journey through two of Southeast Asia's most captivating countries - Cambodia & Laos.
Our journey begins in the idealic riverside town of Luang Prabang, Laos, a place where time seems to have stood still- offering a combination of luxurious accommodations on the river's edge, daily yoga & fitness classes, rich Buddhist traditions, exquisite temples, traditional Lao cuisine, unique handicrafts and breathtaking natural beauty- from the lush palm trees to the gentle rescued elephants that have long called Laos their home.
After four nights, we will continue our journey to the kingdom of Cambodia, with it's unrivalled wealth of history & culture. Nowhere is this better symbolized than at the majestic temples of UNESCO protected Angkor Wat, a timeless testament to the ingenuity of the Khmer people, and the focal point of our stay in Cambodia. And while a visit to the temples of Angkor is a profound experience, as few sites on earth can match the majesty of Angkor Wat, there is so much more to this remarkable country. Join Escape To Shape as we explore not only the temples, but also far beyond - the beautiful & inspiring people, the simple villages, the culinary treats, the unique craftsmanship, the rich Buddhist traditions, plus much, much more.
---
Includes
10 nights luxury accommodations in two charming private villas. One riverside in Luang Prabang, the other nestled amongst the rice paddies & palm trees of Siem Reap. Accommodations include en suite bathrooms, plush beds, luxurious linens, private terraces overlooking the pool or garden and deluxe amenities.
3 delicious, healthy meals & snacks reflective of the region & the season are provided daily. Meals are enjoyed in the villa as well as in noted restaurants of the region.
Yoga & Meditation
Fitness Training & Khmer Boxing
One way economy class ticket from Luang Prabang to Siem Reap.
Private temple tours of all the major temple 'players'- Angkor Wat, Angkor Thom, Ta Prohm and Beng Mealea. Additionally, experience the beauty and stillness of Angkor Was at sunrise.
Private boat trip to stilted & floating villages
Private Buddhist monk chat at local Pagoda, including private water blessing
Private village walk & talk - an opportunity to discover the 'soul' of Cambodia- meet the people; see where they live and how they spend their days. This experience includes a hands-on opportunity to give back to the local people, if interested.
Private sunset cocktails & dinner overlooking the rice field
Private Cooking class – 1/2 day hands-on cooking class - visit the local 'wet' market with the chef & learn to make traditional favorites
Opportunities to explore the famous night markets as well as local boutiques that support the local people
Experience Phare- The Cambodian Circus- up close & behind the scenes with the acrobats.
One massage
Round trip ground transportation from the Luang Prabang International airport (LPQ) & Siem Reap International Airport (REP).
Tax
---
Rate
$1500 non-refundable deposit per person. Please refer to the policies page of our website for our complete cancellation policy.
---
Accommodations
While in Luang Prabang, guests will stay in a beautiful private villa nestled on the river's edge, in the heart of the UNESCO protected historical city center- just minutes away from the night market, temples and cafes. Each suite is large, airy and luxurious with a private en suite bathroom and terrace, plush linens, air conditioning, ceiling fans and deluxe amenities, decorated with original artifacts and antiques reflecting true Indochina culture and heritage. Additionally, the property is host to a variety of unique indoor & outdoor spaces, gorgeous gardens and a refreshing pool. A stay here is truly memorable, as the property is a slice of natural paradise splashed with a gracious staff, rich culture and an unparalleled sense of tranquility.
While in Cambodia, guests will stay in beautiful private villas nestled amongst rice paddies and palm trees, just minutes away from the town of Siem Reap and the magnificent temples that make up Angkor Wat. Each spacious suite is freshly appointed with beautiful Khmer art and textiles and is complete with an en suite bathroom, plush linens, air conditioning, ceiling fans and deluxe amenities. An expansive pool, lotus pond and lush garden all splash color throughout the property, making this villa truly relaxing and inviting. Additionally, a sense of tranquility, beauty. and spaciousness that is unique to Cambodia permeates the property, which is host to a variety of unique indoor & outdoor spaces, ideal for practicing and inspiring each yoga & fitness session. The gracious and accommodating staff, along with the rich history and culture of the area, makes this a most memorable and magical Bucket List Escape.
---
Sample Itinerary & Menu
Sample Days At Escape To Shape: Exploring Southeast Asia
Please note all activities are optional
DAY 1
5:30-6:30 am – Breakfast Available At Your Leisure
6:30 am - Walk to Wat Athvew for monk water blessing & monk chat
10:00 am - Morning Meditation & Journaling- 30 minutes
10.30pm - Yoga
12:00pm – Lunch
1:00 -5:00 pm- Free time to relax poolside or on your private terrace, enjoy the spa, take a nap, etc.
5:00 pm - Khmer Boxing Class
7:00 pm - Dinner & Responsible Tourism Chat
8:00 pm – Tuk-Tuk tour of Siem Reap + visit to Night Market
DAY 2
7:30-8:45 am - Breakfast Available At Your Leisure
8:15 am - Morning Meditation & Journaling- 30 minutes
8:45 am - Depart for Temple Tour to include Angkor Wat, Angkor Thom & picnic lunch
2:30 pm – Aqua Fit
3:00 pm - Private visits to some of Siem Reap's top boutiques
4:15 pm – Depart for Phare: The Cambodian Circus. Enjoy tumbling lessons with the acrobats & dinner before experiencing the show
SAMPLE MENU
DAY 1
Breakfast
Eggs prepared to order
Home made muesli with dried fruits & home made yogurt
Fresh tropic fruits
Fresh juice
Coffee & tea
Lunch
Fresh vegetarian spring rolls
Banana blossom salad with chicken
Exotic Fruit Platter
Mid-Afternoon Snack - Hummus with carrot & celery sticks
Dinner
Crab Cakes with Chili Sauce
Amok with chicken
Petite sticky rice cake with fresh Mango and coconut cream
DAY 2
Breakfast
Eggs prepared to order
Home made whole grain breads with nut butters
Fresh tropic fruits
Yogurt
Fresh juice
Coffee & tea
Lunch
Prawn skewers with satay sauce
Cambodian chicken and mango salad
Fresh Fruit Platter
Mid-Afternoon Snack- Pineapple, Lime and mint Salsa served with homemade baked taro chips
Dinner
Pumpkin and coconut cream soup
Cambodia green curry with snapper
Dark chocolate fondue served with fresh fruit
---
Teachers
Erica Gragg
Yoga Teacher/Fitness Trainer/Curator
Erica is an acclaimed yoga teacher, known for teaching a strong, yet playful Vinyasa flow practice. She is largely inspired by the journey of yoga, the subtle to the grand discoveries each individual makes through their practice, inviting students to have fun while experiencing their body in a whole new way through each unique practice. With classes always set to music, from tribal, to lounge to classic rock songs, students are able to find their own personal rhythm and expression through each asana. Additionally, Erica is co-founder and co-owner of Escape To Shape, which she created to fill a gap in the travel & wellness market- combining her two passions into one unique, memorable and results-driven holiday. Erica contributes to AFAR, Huffington Post, MindBodyGreen, Charlotte's Book and Well + Good, amongst others, as a Travel & Wellness Expert.
---