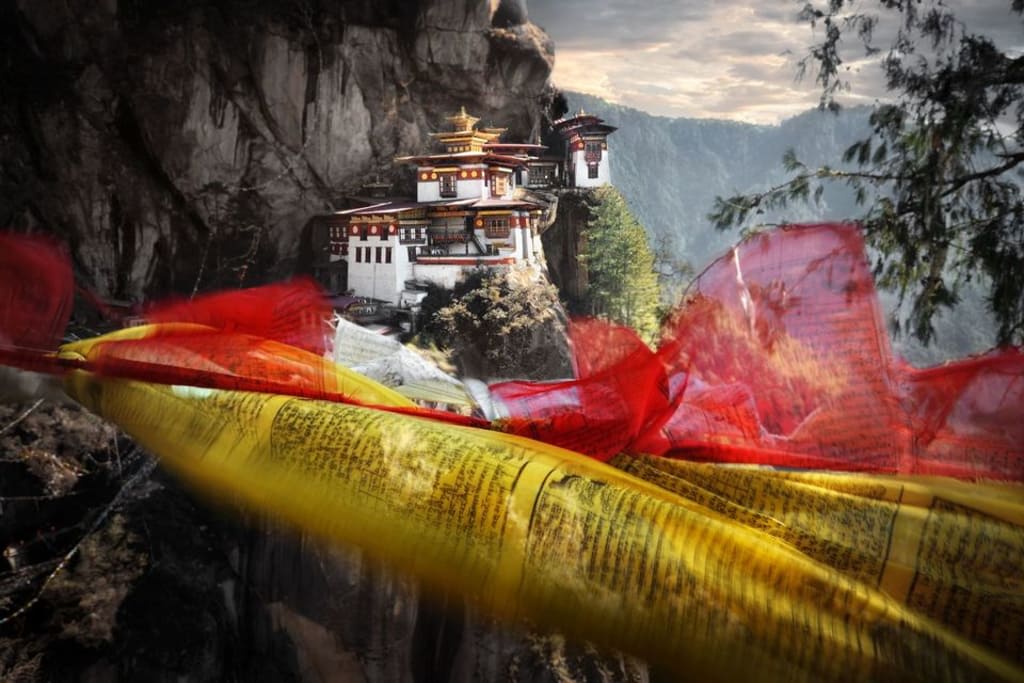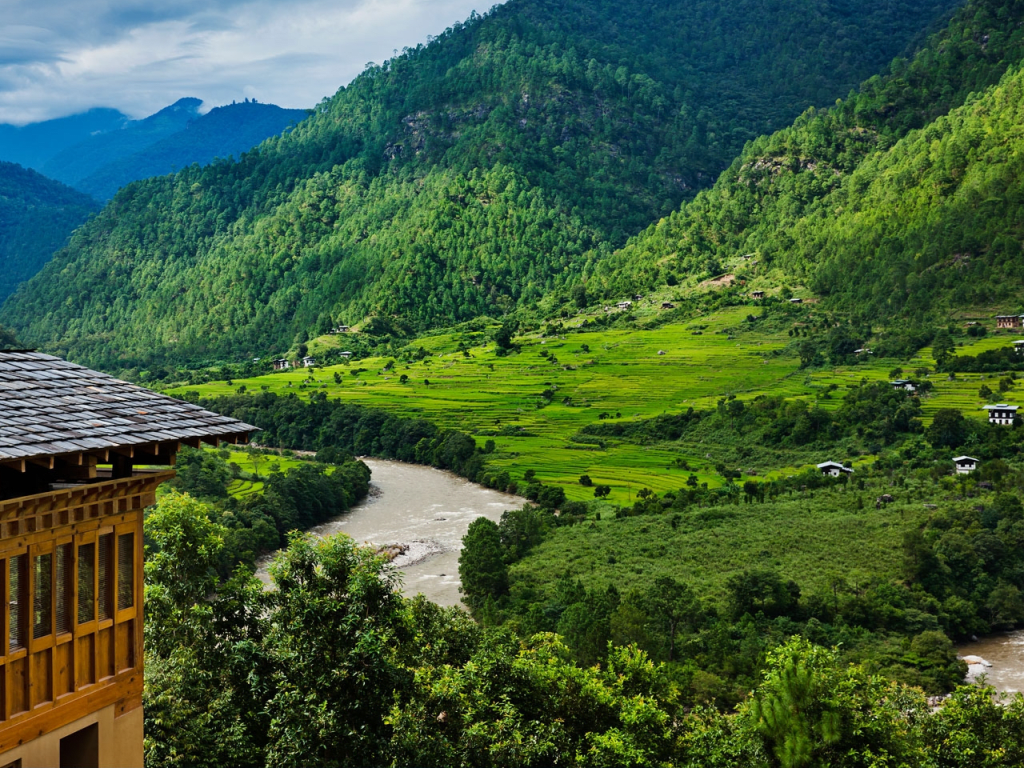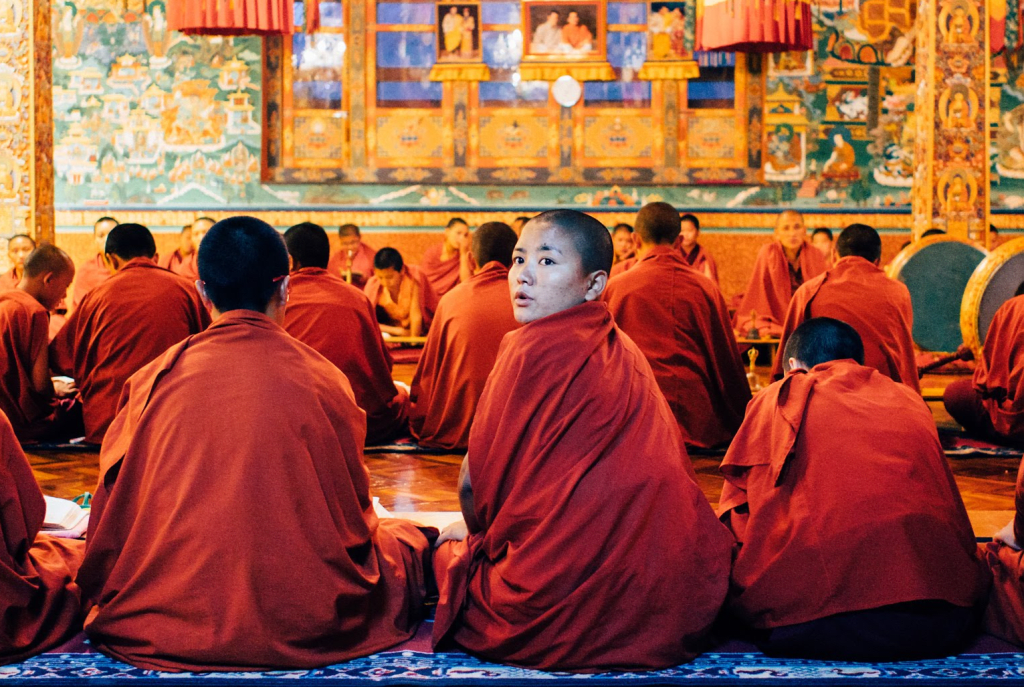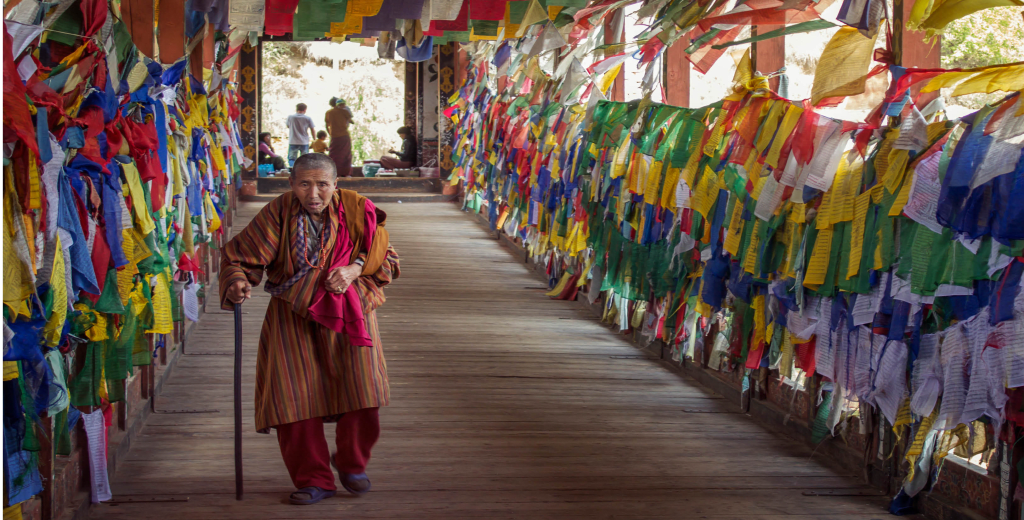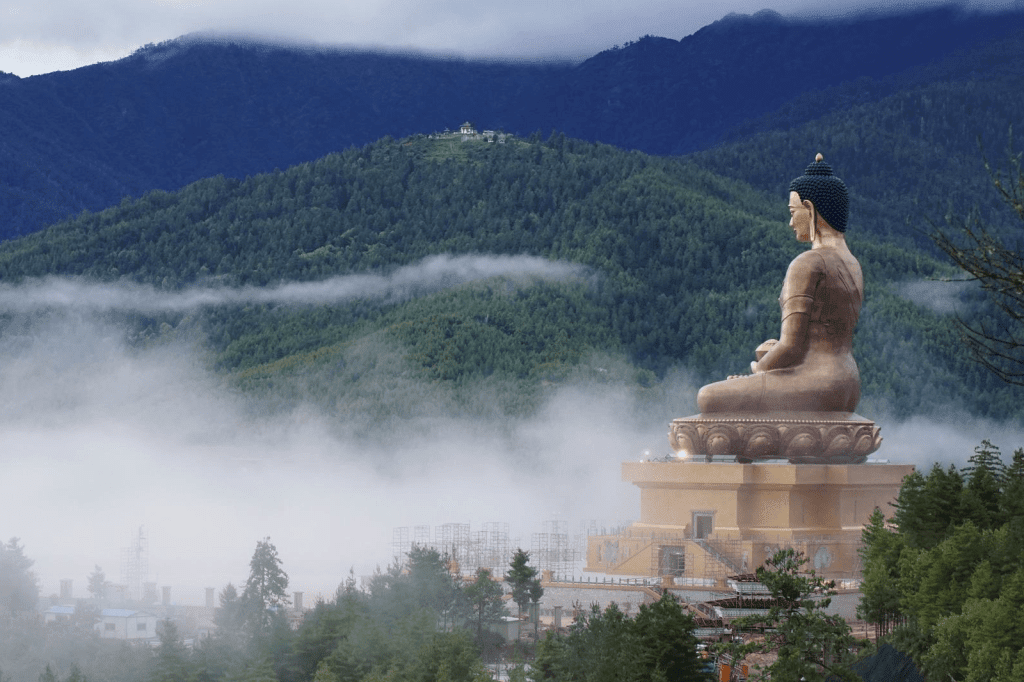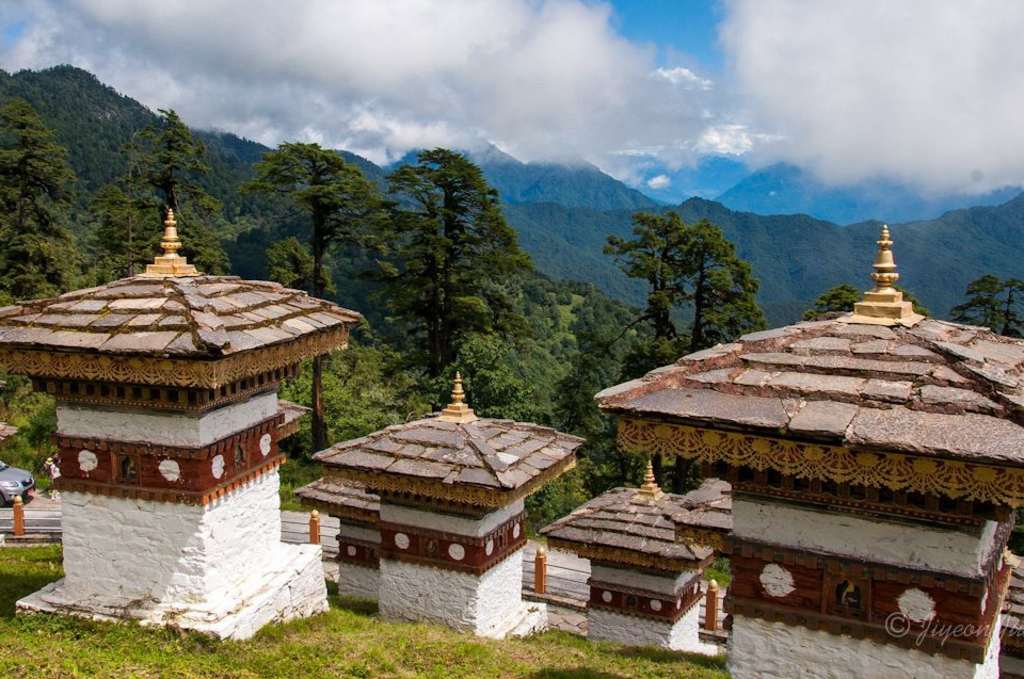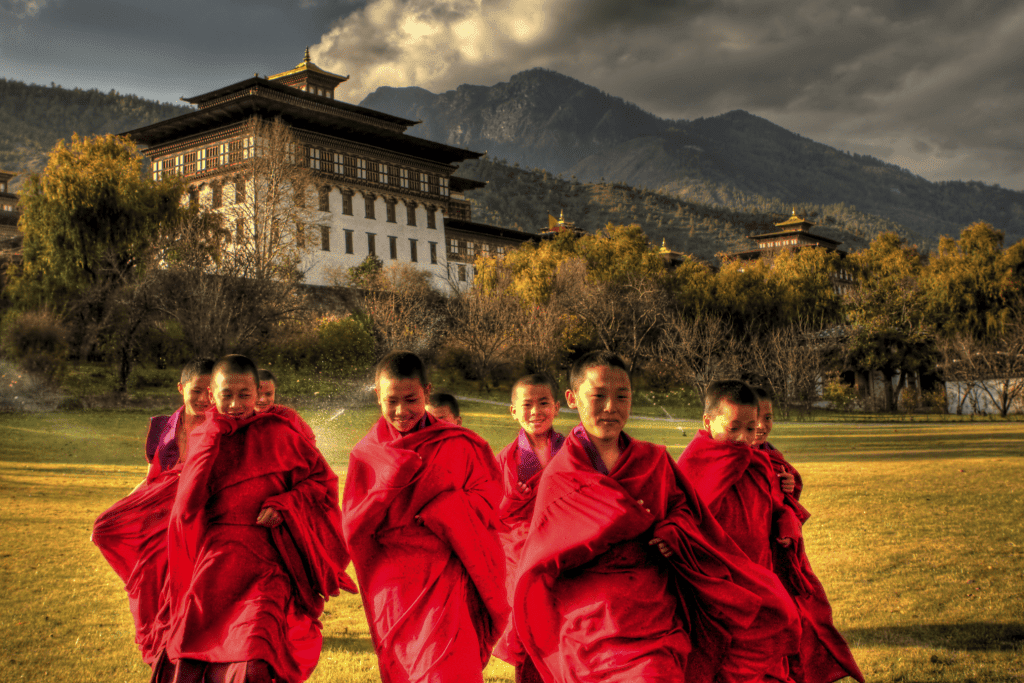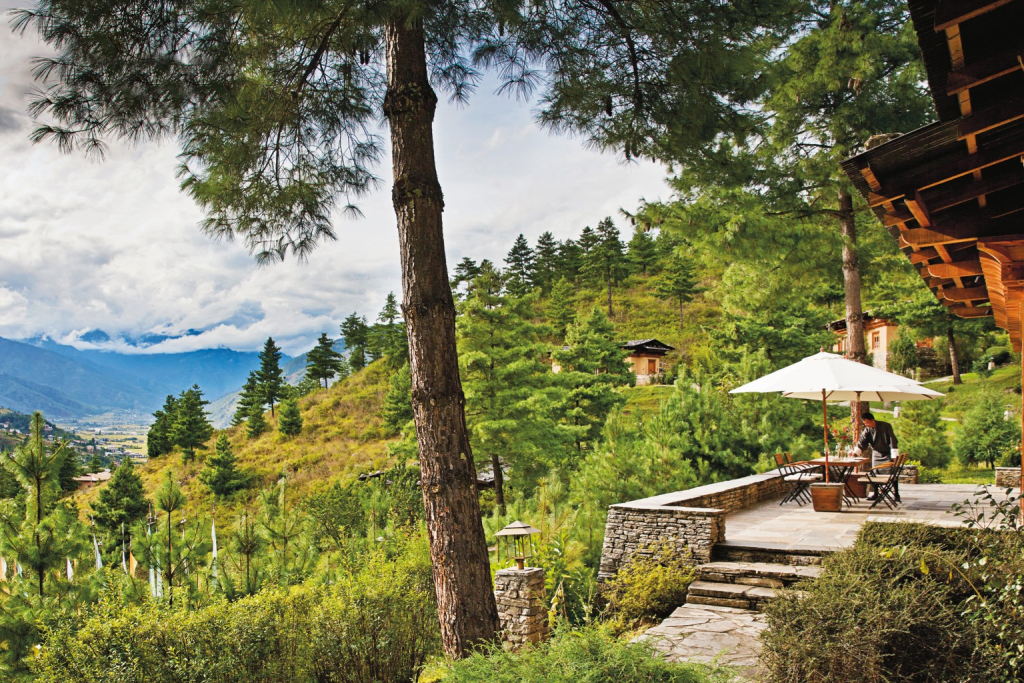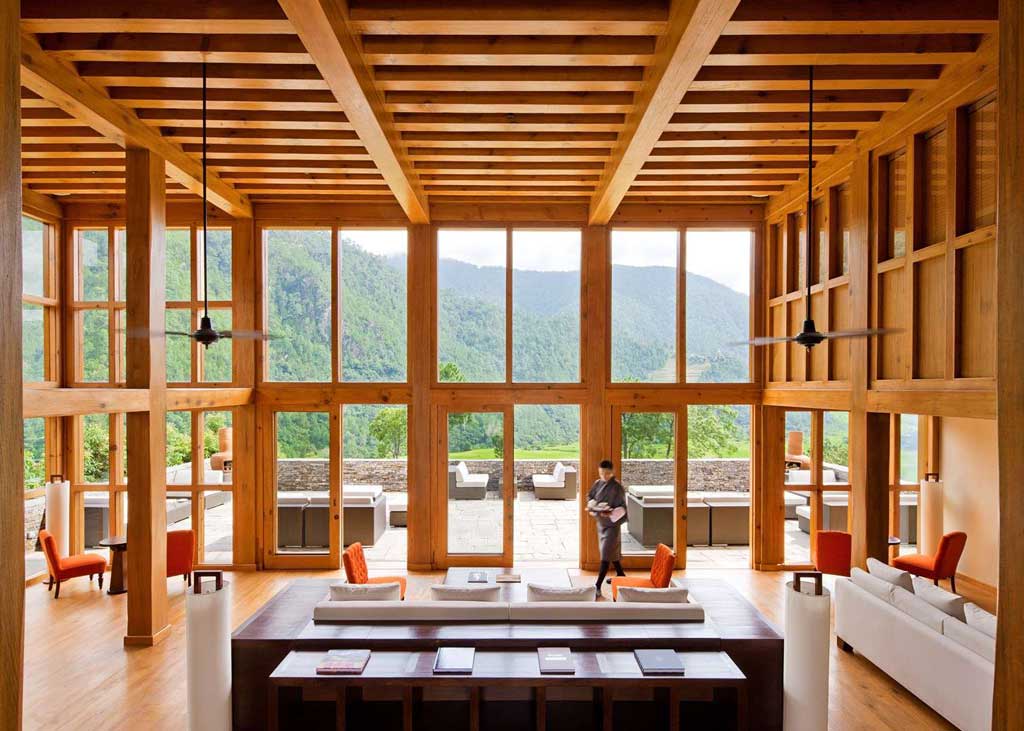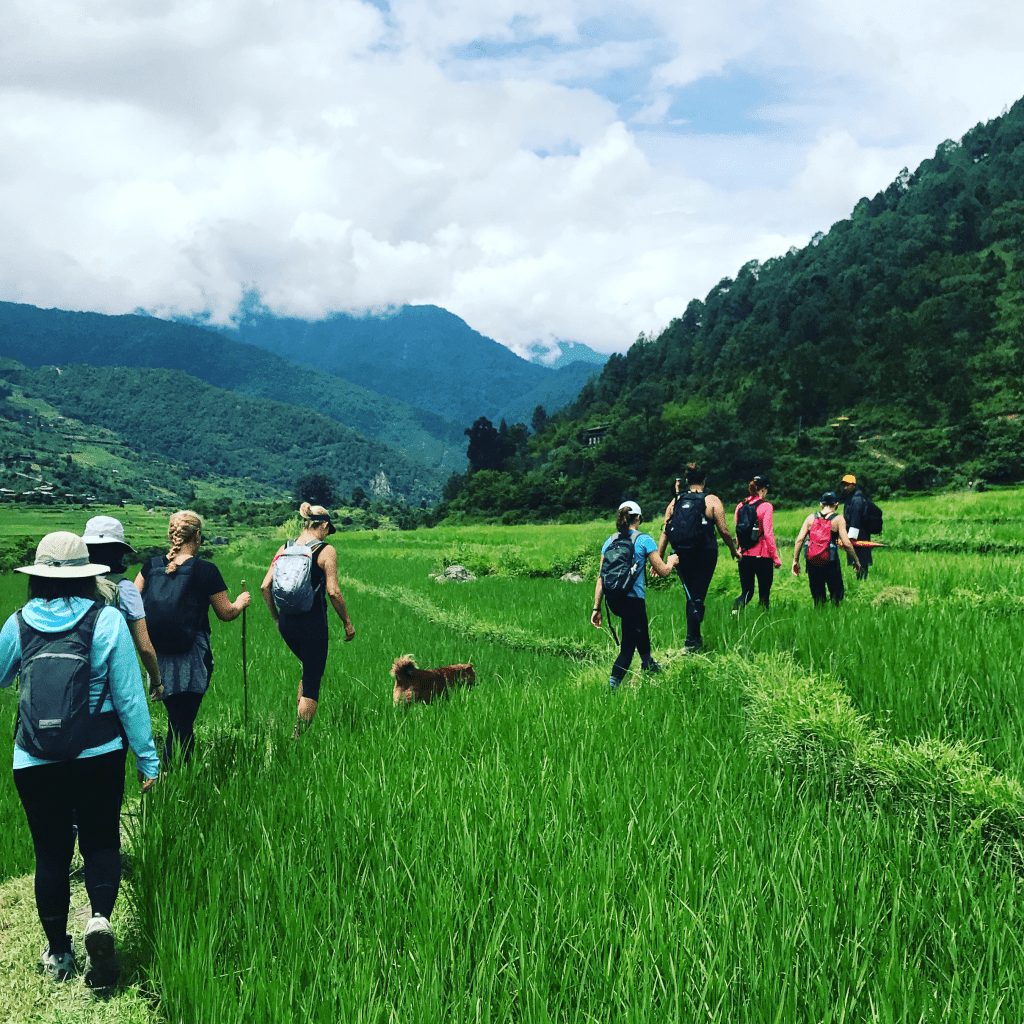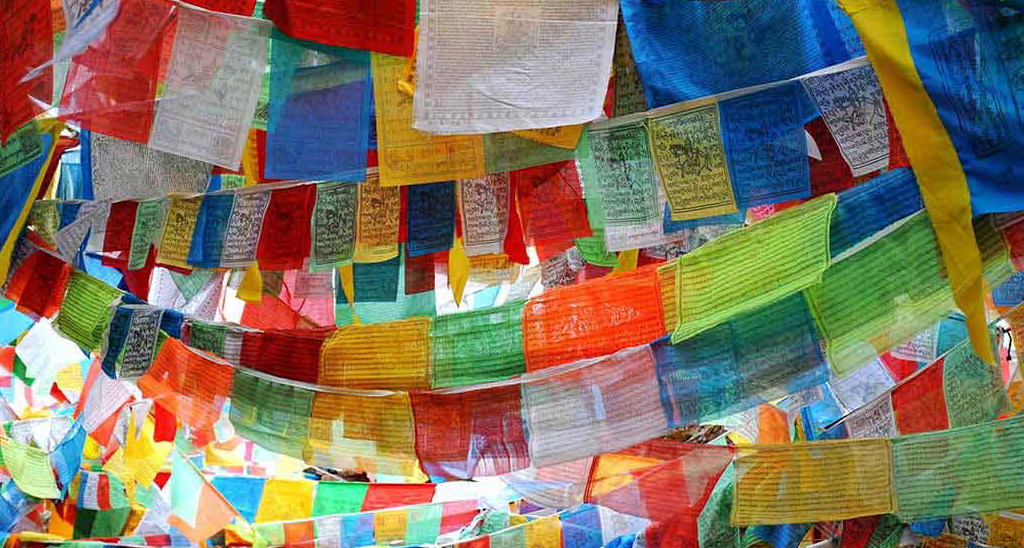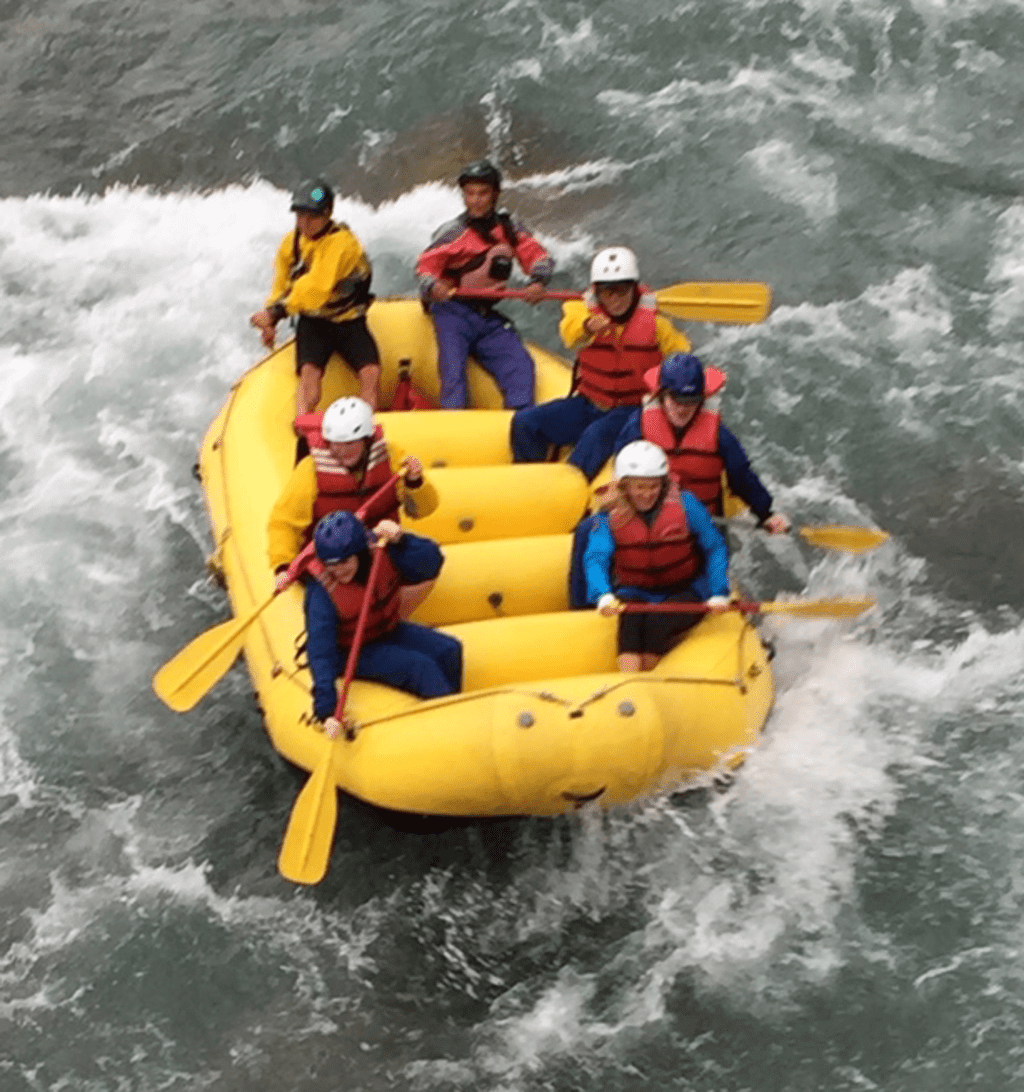 A Journey Through Bhutan
Paro & Punakha, Bhutan
I SO loved and long for our time in Bhutan. It will be with me forever! All I can say is thanks beyond belief for the best experience of my life! Hope to travel with you again soon.
-- K.
---
Hiking. Yoga. Meditation. Massage. Giving-Back.
Delicious regional & seasonal, locally sourced, primarily organic cuisine enjoyed against some of the most breathtaking backdrops this world has to offer. Destination dining lovers don't forget your cameras! Gluten free or vegan? We've got you covered!
Ultra-chic & sophisticated Himalayan mountain lodges mixing tradition with luxury & comfort. While the beauty of Bhutan is best experienced connecting to the people & the culture, no one can blame you if you want to skip a hike or two to relish in the beauty of our luxurious accommodations!
Because we believe that a well-balanced holiday is not just about receiving but about giving back as well, join us as we support an off-the-beaten path monastery with over 40 orphaned young monks. Visit, received blessings & perhaps even sponsor a young monk that is in need. Just by joining us on this Escape you are making a difference in the young monks lives as a portion of your payment goes to support the monastery.
Bucket List Escape & Beyond. Prepare to be transported the moment you step off the plane. Bhutan in a place like no other - its prayer flags, monasteries, markets, mountains & magic will stay with your forever.
---
Join ESCAPE TO SHAPE on a most magical journey to the enchanting Kingdom of Bhutan. Experience the vibrant colors, the sweet sounds of chanting & nature and the overwhelming sense of peacefulness that permeates this spectacular region. If you are ready to be transported to a land of highlands & prayer flags, monasteries & markets, mountains & magic then the ethereal Kingdom of Bhutan is indeed for you!

Our unique, bespoke itinerary combines A LOT of hiking, culture and relaxation as we journey deep into the Kingdom's heartland exploring three distinctly different but important valleys; the bustling capital of Thimphu in a valley dotted with monuments, museums and markets; the almost tropical Punakha valley with its magnificent Dzongs; and the emerald valley of Paro with its rice paddies and ancient temples. Throughout our adventure we return nightly to the simple luxury and comfort of our beautiful Uma by COMO suites in Paro & Punakha.
A FEW IMPORTANT THINGS TO NOTE:
This Escape includes a lot of Easy to Moderate hiking, and one Moderate to Hard hike (Tiger's Nest). The duration of these activities ranges from 4-6 hours. This includes driving time, time to stop and take photos, time for cultural discussions and for breaks as needed. The hikes, while physical, are also a way to experience the culture & natural beauty of the Kingdom. Proper footwear is required.
Be prepared to spend time in a vehicle as the roads between Paro, Thimphu & Punakha can be unpredictable. The cars are comfortable, but the driving time is roughly 4 hours.
The rates listed are based on everyone arriving & departing as a group. If you plan to stay on longer than the below mentioned itinerary you will be responsible for the additional Government surcharges, royalty fees, tariffs and FIT fees.
Passport must be valid for 6 months past the date of entry and have at least ONE blank page.
We strongly recommend purchasing TRAVEL INSURANCE for the entire amount of this Escape (not including flights to/from Bangkok, unless you want to include them in your coverage). Please note that typically travel insurance must be purchased within 2 weeks of making your initial deposit in order to obtain a better rate and cover pre-exiting conditions.
---
Includes
Round trip ground transportation from the Bangkok Airport (BKK) to The Metropolitan by COMO
One (1) night at The Metropolitan by COMO in Bangkok (October 12)
Seven (7) nights accommodations in Bhutan at the luxurious COMO properties in Paro and Punakha. (October 13-19)
All delicious and healthy meals reflective of the region & the season, including unique destination dining experiences in the area
Privately guided hikes and experiences to explore the dzongs (fortresses), monasteries, temples, markets & mountains of the Kingdom. Highlights include Tiger's Nest, rafting in Punakha, Temple of the Divine Madman + much, much more.
One 60 minute massage
Vinyasa yoga- almost every day!
Use of the gym, steam room & indoor pool at Uma Paro
Round trip flights from Bangkok, Thailand to Paro, Bhutan
Bhutanese Government Visa + Royalty fees + tariffs
Monk donations & blessings
Numerous cultural surprises and off-the-beaten path experiences
Taxes
---
Rate
$5000 non-refundable deposit per person. Please refer to the policies page of our website for our complete cancellation policy.
---
Accommodations
Uma by COMO, Paro and Uma by COMO, Punakha will serve as our intimate accommodations in Bhutan, a landlocked Himalayan Kingdom where religion and nature have come together in a compelling Buddhist culture. Both properties are instilled with the same principles, for Uma means 'living house' and both are inspired by the landscape, spirituality and culture of the special region, heavily steeped in the traditions that surround them. They serve as the ideal locations—among pine-clad valleys, lush vegetation, rushing rivers and snow-capped mountains—for those to whom the joy of discovery is reason enough for a journey.
Please note that due to the size of the properties (169 rooms at the Metropolitan Bangkok & 29 rooms at Uma by COMO, Paro), we will not have exclusive use of Metropolitan Bangkok by COMO or Uma by COMO, Paro, rather, we will be sharing them with other discerning travelers. We will have exclusive private use of Uma by COMO, Punakha.
---
Sample Itinerary & Menu
Sample Days At Escape To Shape: A Journey Through Bhutan
Please note all activities are optional
DAY 1
7-9:00 am – Breakfast Available At Your Leisure
9:00 am – Zurig Dzong Hike
12:30 pm - Lunch
1:00 pm - Scenic drive through Dochu-la Pass, enroute to our private villa in Punakha
7:00 pm - Yoga & Meditation
8:00 pm - Dinner
DAY 2
7:00-9:00 am – Breakfast Available At Your Leisure
9:000 am – Khamsum Yulley Namgyal Chorten Hike
1:00 pm - Lunch
2:30 pm - Punakha Dzong Hike & Visit
6:00 pm - Yoga & Meditation
8:00 pm - Dinner
SAMPLE MENU
DAY 1
Breakfast
Eggs made to order
Home made muesli with dried fruits & nut milk
Fresh fruits
Yogurt
Fresh juice
Coffee & tea
Lunch
Bucketwheat noodle, chilled cucumber, white daikon with Japanese dressing
Chicken sate with peanut sauce & pickled cucumber
Mid-afternoon Snack - Steamed momo's (dumplngs)
Seasonal fruit salad
Dinner
Roasted pumpkin soup
Seared sea bass
Quinoa & roasted cauliflower
Raw coconut with raw chocolate sauce
DAY 2
Breakfast
Eggs made to order
Overnight oats with chia & seeds, almond milk & fresh fruit
Fresh fruits
Yogurt
Fresh juice
Coffee & tea
Lunch
Trio of dips & vegetable crudites, flat brad & flat seed crackers
Fish curry with red rice
Chile & cheese (traditional Bhutanese dish)
Grilled pineapple skewers
Mid-afternoon Snack- Banana & almond milk smoothie
Dinner
Rocket, fennel & red radish salad
Grilled shrimp & roasted root vegetables
Mango sorbet
---
Teachers
Erica Gragg
Yoga Teacher/Fitness Trainer/Curator
Erica is an acclaimed yoga teacher, known for teaching a strong, yet playful Vinyasa flow practice. She is largely inspired by the journey of yoga, the subtle to the grand discoveries each individual makes through their practice, inviting students to have fun while experiencing their body in a whole new way through each unique practice. With classes always set to music, from tribal, to lounge to classic rock songs, students are able to find their own personal rhythm and expression through each asana. Additionally, Erica is co-founder and co-owner of Escape To Shape, which she created to fill a gap in the travel & wellness market- combining her two passions into one unique, memorable and results-driven holiday. Erica contributes to AFAR, Huffington Post, MindBodyGreen, Charlotte's Book and Well + Good, amongst others, as a Travel & Wellness Expert.
---